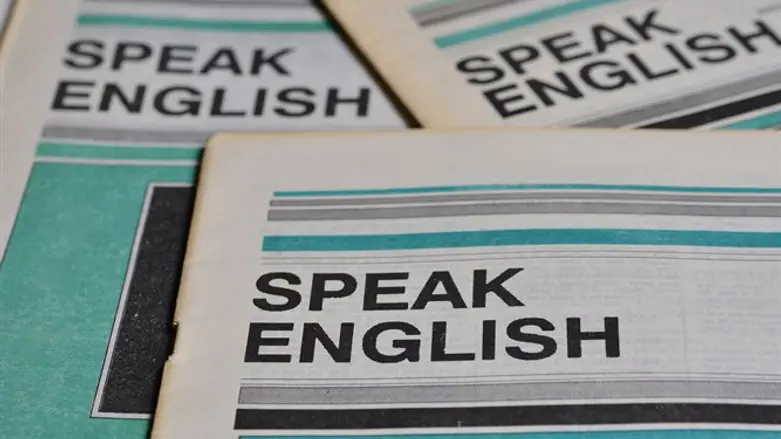 Speak English?
iStock
Education Minister Naftali Bennett announced today (Wednesday) that in the coming school year, a national program for advancement of English teaching will begin to operate in the education system.
The program includes a wide range of components that will be applied to primary schools, junior high schools, and high schools, and is based on three main pillars.
The first is promoting the spoken language so that English will be accessible to all Israeli students allowing them to use the language for a variety of purposes: privacy, employment, public, and academic work.In order to realize these goals, a strong emphasis will be placed on strengthening the sense of articulation, self-confidence, and the ability to connect different subjects through the language component.
The second pillar sets goals to increase the number of students enrolled in a more advanced program to allow more and more students to enter academia.Today there is a lack of potential university candidates relative to the number of students at all different levels.
The third pillar is to strengthen the quality of instruction in order to create a strong teaching and learning infrastructure.
Minister Bennett said that "from the coming year, the education system will be translated into spoken English, such that we have formulated the 'Give me five' program, which will be introduced into schools in the coming academic year.In today's global world, this program is of crucial importance to the future of our children.
"A generation has learned to conjugate 'present simple'; I want a generation to learn English, and just as we succeeded with the National Program for Five Mathematics Units, I have no doubt that we will succeed in promoting spoken English in schools," added Bennett.
Today, Bennett tweeted, "Bottom line: Every girl and boy in Israel need to know how to conduct a conversation in high level English, to write, and to read. It's not a luxury; this is a vital need in 2017.
We're taking off!"
Education Ministry Director-General Shmuel Abuav said that "the national program brings an innovative pedagogic method, in that it includes many components that were not previously part of the school's teaching system.
"The components include focusing on the development of new language skills that deal with oral discourse, which will be integrated into all stages of education from elementary to high school. In order to assimilate the skills, we will ensure that at the elementary level, students will have a dialogue in English by reading books that we will acquire and introduce into the classroom, and students will share their personal experiences with their classmates of their reading experiences while the entire conversation takes place in English.
"I believe that this will produce a graduate with skills that will help him fit into the changing global world," Abuhav concluded.