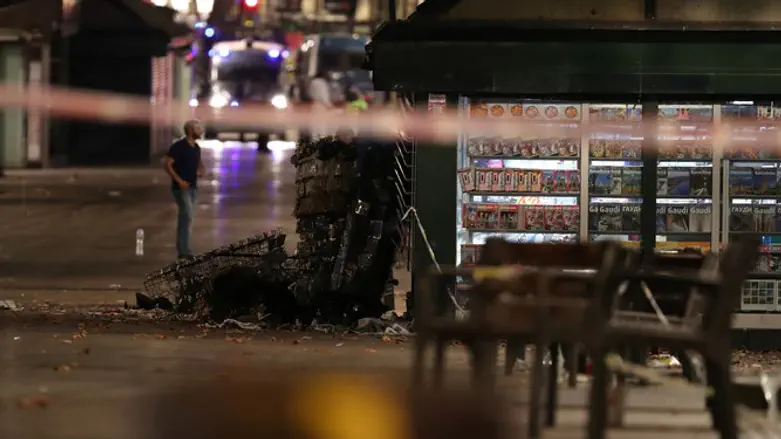 Aftermath of Barcelona attack
Reuters
Moroccan authorities have arrested a man suspected of supplying gas canisters to the jihadist cell that carried out the two terrorist attacks in Catalonia earlier this month, a source from the Spanish investigation told Reuters on Tuesday.
The cell accumulated around 120 canisters of butane gas at a house in a town south of Barcelona with which, police say, it planned to carry out a larger bomb attack.
Police believe the cell accidentally ignited the explosives on August 16, triggering a blast that destroyed the house in the town of Alcanar.
The remaining attackers then decided to use hired vans to drive into crowds along Barcelona's most famous avenue and later mount an assault in the resort town of Cambrils.
Moroccan police arrested the man in the city of Casablanca, the source told Reuters, without providing further details.
Last week it was reported that Moroccan authorities had arrested two people suspected of links to the alleged perpetrators of the van attack in Barcelona.
It remains unclear whether one of the two is the man suspected of supplying gas canisters to the attackers.
Spain's interior minister, Juan Ignacio Zoido, confirmed on Tuesday that Moroccan authorities had arrested two people linked to the attacks but declined to give details about them.
Zoido, speaking after a meeting with the Moroccan interior minister in Morocco's capital Rabat, said Spanish and Moroccan authorities were working closely together in the investigation, according to Reuters.
Spanish security forces last week killed Younes Abouyaaquoub, the suspected driver of the van which rammed into a crowd of pedestrians in the busy Las Ramblas boulevard in Barcelona.
Abouyaaqoub fled the scene of the attack on foot. He stole a vehicle and stabbed the driver to death. When he reached a police checkpoint he escaped from the vehicle. The authorities had been unable to locate him following his escape until Monday.
Authorities feared that Abouyaaqoub had fled to France, and the search for him had been extended to all European nations.