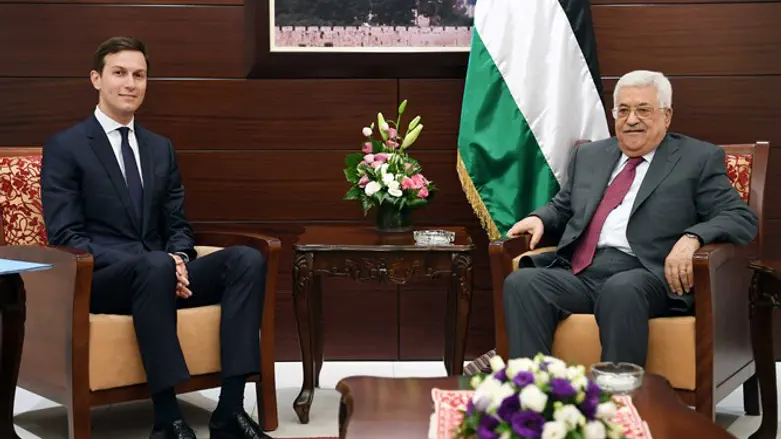 Kushner (L) and Abbas smiling for cameras
Reuters
The US delegation headed by White House adviser Jared Kushner told Palestinian Authority Chairman Mahmoud Abbas that there is no reason to freeze building in Judea and Samaria.
According to al-Hayat, Abbas requested the US pressure Israel to freeze Jewish building in Judea and Samaria either fully or partially. This, Abbas said, is one of the preconditions necessary for peace talks.
Kushner, together with US Special Middle East Envoy Jason Greenblatt, told Abbas they have no intention of requesting Israel freeze building. This, they explained is for two reasons: First, the talks must be held without preconditions. Second, Israel has compromised much for the sake of the PA, but the PA has not taken steps to build confidence and has, in fact, acted in the opposite manner.
They also told Abbas that even though they believe the two-state solution is ideal, talks must be held without preconditions and the exact borders should be negotiated between the two sides.
The PA publicly praised the US delegation and said, "We appreciate the US' activities to further peace and work with us towards that goal. However, this is a difficult and complex issue."
PA officials have become increasingly frustrated with the Trump administration and pessimistic about chances of a breakthrough.
On Thursday, Israeli Prime Minister Binyamin Netanyahu told Kushner that "peace is within reach."