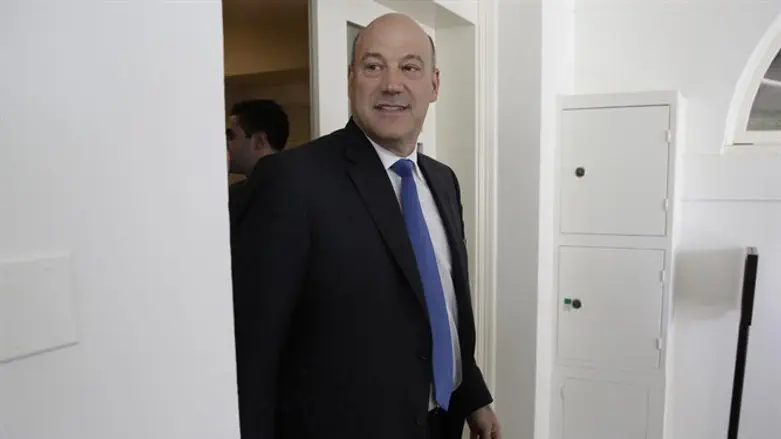 Gary Cohn
Reuters
Gary Cohn, the top White House economic official, told the Financial Times in an interview on Friday that he faced "enormous pressure" to resign after the uproar over President Donald Trump's reaction to the recent clashes in Charlottesville, Virginia, that left one woman dead
Cohn acknowledged the Trump administration "must do better" in condemning neo-Nazis and white supremacists following the violent protests.
"This administration can and must do better in consistently and unequivocally condemning these groups and do everything we can to heal the deep divisions that exist in our communities," Cohn, a Jewish-American who was president of Goldman Sachs before becoming head of the White House national economic council, told the newspaper in his first public comments on the issue.
His associates were quoted as having said that Cohn seriously considered resigning over the issue, but opted to remain following conversations with Trump.
"I have come under enormous pressure both to resign and to remain in my current position," the former banker told the Financial Times during an interview about economic policy.
"As a patriotic American, I am reluctant to leave my post...because I feel a duty to fulfil my commitment to work on behalf of the American people. But I also feel compelled to voice my distress over the events of the last two weeks," he added.
"Citizens standing up for equality and freedom can never be equated with white supremacists, neo-Nazis, and the KKK," said Cohn.
"As a Jewish American, I will not allow neo-Nazis ranting 'Jews will not replace us' to cause this Jew to leave his job. I feel deep empathy for all who have been targeted by these hate groups. We must all unite together against them."
Trump came under fire for saying that both sides were to blame for the violence in Charlottesville.
He pointed out in a press conference several days after the violence that protesters on the left violently attacked white nationalists rallying against a decision to remove a Confederate statue.
"They came at each other with clubs ... it was a horrible thing to watch," Trump said, adding that left-wing protesters "came violently attacking the other group."
"You had a group one side that was bad and you had a group on the other side that was also very violent, and nobody wants to say that but I'll say it right now," he stressed.
Cohn was not the only official to face pressure. Treasury Secretary Steven Mnuchin, who is also a Jewish American, faced calls to resign from his Yale University classmates, who issued a public letter.
Mnuchin rejected the calls to resign and made clear that "the president in no way, shape, or form, believes that neo-Nazi and other hate groups who endorse violence are equivalent to groups that demonstrate in peaceful and lawful ways."
"I don't believe the allegations against the president are accurate, and I believe that having highly talented men and women in the country surrounding the president in his administration should be reassuring to you and the American people. As long as I am Treasury Secretary, I will do the best I can for the American people and provide the best advice I can to the president," he added.
(Arutz Sheva's North American desk is keeping you updated until the start of Shabbat in New York. The time posted automatically on all Arutz Sheva articles, however, is Israeli time.)