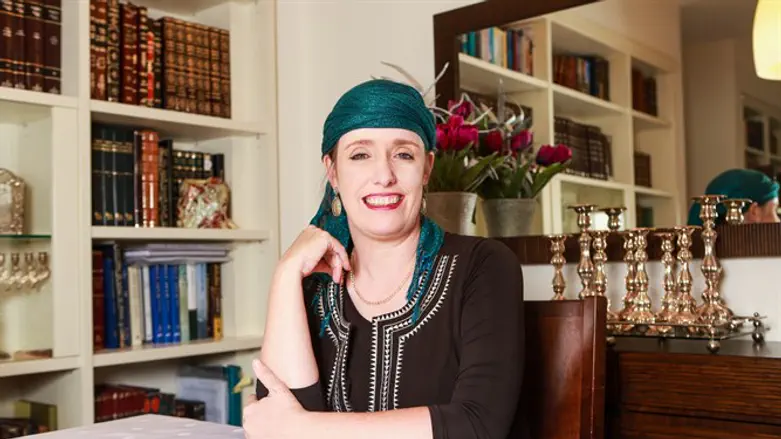 Dr. Leah Weisel
Shlomi Yosef
Arutz Sheva interviewed Leah Weisel, a religious Zionist woman who has a PhD in law, teaches in several colleges, and is active in the Jewish Home party.
The eldest of four children, Leah was born 43 years ago in the Haifa-area city of Kiryat Ata, "during a time when the Religious Zionist community there was growing."
Her father, Rafi Schwartzman (66), worked in Israel's Leumi Bank until he retired. Her mother, Chaya, was a homeroom teacher and a Hebrew teacher in a local high school until she died suddenly six years ago.
"He knows how to have a happy life," Leah said. "My father taught me serenity. He's a rational person, very calculated, he doesn't get stressed out easily. He passed a bit of it to me. My mother was only 60 when she died. She just went to sleep and never woke up. She suffered cardiac arrest. We were all in shock."
"I had a really close relationship with my mother, and we would talk on the phone a few times a day. Suddenly she was gone. I think about her a lot, because I really feel the lack, especially during celebrations. The more time passes, the more I feel the loss and miss her."
Leah's family always spent the first night of Pesach (Passover) at her grandparents' home.
"Every year, at the same point, my grandfather would get stuck and choke up, remembering how he lost his soldier son," she said. "It was an integral part of my childhood, and so were the visits to the cemetery, which started when I was very young.
"I'll never forget what my grandfather said at my mother's funeral: 'Master of the Universe! Avraham our father sacrificed one son to you. I have sacrificed two, a son and a daughter. But I have no criticism towards You.' It was an awful moment. Such a gentle man, during the hardest time of his life, speaking from the depths of his heart."
Leah studied in a Religious Zionist school until an argument broke out over whether the boys and girls should be in the same class or separate classes. Her parents, who did not involve themselves in arguments, simply switched her to the haredi Beit Yaakov school. In grade 7, she switched to a Religious Zionist six-year high school.
To this day, Leah sees the dean of her second high school, where she studied from tenth grade to twelfth, as an influence in her life.
"The high school formed me," she explained. "The dormitory, the friends, the learning, the deep conversations on the pathways and the grass. But what I really got from the school is my aspiration to live a meaningful life."
For national service, Leah directed a branch of the Bnei Akiva youth movement. When she finished, she began studying law in Bar Ilan University.
"At that time, it was unusual for a religious young woman, who had studied in a religious high school, to study law in Bar Ilan. But it was a field which interested me, and I never regretted my choice for even a moment."
After completing her BA, Leah did an internship and a MA with a thesis. The topic of her thesis? Sexual harassment as a criminal offense, "during a time when such a thing was only a proposed law."
Leah received the President's Scholarship to complete her PhD, which she did as part of a unique program integrating doctoral studies with Torah studies in Bar Ilan.
At age 32, with four small children, Leah received her PhD in law.
Leah taught once a week in the Orot Israel College in Elkana, before becoming the college's student dean and director of Torah Studies and the new Department for the Study of the Jewish Family. She also teaches courses in Bar Ilan and "Shaarei Mishpat," and serves as a member of the Takana forum, a secretary for the Jewish Home party, and on the steering committee of the Jewish Home party's women's forum.
At the end of her first year of study, Leah met the man who would become her husband - Eliav Weisel, from Kiryat Motzkin. At the time, he was serving in the IDF. After he completed his army service, Eliav studied for several years in a yeshiva. Today, he teaches in a yeshiva high school in Petah Tikva.
"Eliav is an amazing partner. Everything I've done is in his merit, and was accomplished with his help," she said.
The two have six children, ranging in age from 7 to 22 years. Their eldest child is married.
"We are mothers, housewives, and career women," Leah said. "We're always running, always busy, but at at the end of the day, we see benefit, not just cost. I believe that what today's world allows women is amazing. You can be yourself in what you do, and act out of an inner faith in yourself and your abilities."