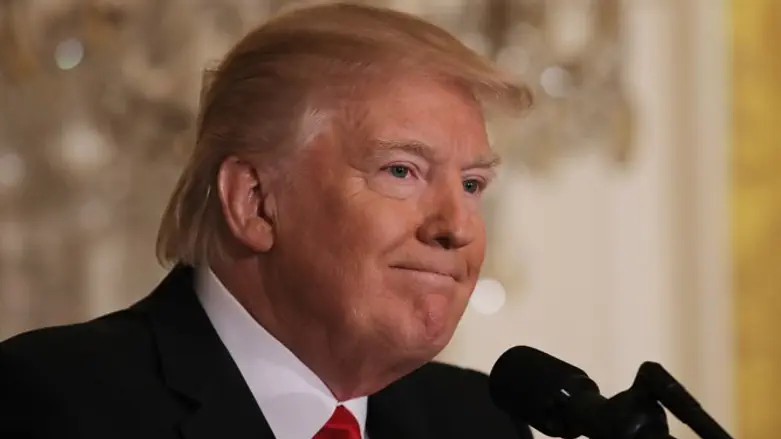 Donald Trump
Reuters
Leaders of the Reform movement in America announced they would not participate in a tradional annual conference call to the White House, the Associated Press reported Thursday, following President Trump's response to the Charlottesville ramming attack which left one woman dead.
The Religious Action Center of Reform Judaism, the Central Conference of American Rabbis, the Rabbinical Assembly, and the Reconstructionist Rabbinical Association all said they were backing out of the conference call, which has been held every year ahead of Rosh Hashanah between Reform leaders and the White House since President Obama took office in 2009.
Reform leaders blasted the president in their announcement, claiming his initial response to the white supremacist rally in Charlottesville, Virginia on August 12th had empowered anti-Semites and bigots across the country. The president had blamed both left and right for the rioting.
"The president's words have given succor to those who advocate anti-Semitism, racism and xenophobia," the joint statement from the four organizations read.
Orthodox organizations, however, did not nix their participation in the conference call.
The Rabbinical Council of America, which originally called President Trump's response to Charlottesville "a failing of moral leadership," is not backing out of the call with the White House.
"We respect the office of the presidency and believe it is more effective to address questions and concerns directly with the White House," said RCA Executive Vice President Rabbi Mark Dratch.
President Trump drew criticism after the Charlottesville attack after he said that "many sides" were to blame for the violence at the white supremacist event.
"You had a group one side that was bad and you had a group on the other side that was also very violent, and nobody wants to say that but I'll say it right now," said Trump. Although the counter protestors had no permit and came armed for violence, Trump clarified the next day that he was strongly opposed to the Neo-Nazi anti-Semitic slogans yelled by the alt-right.