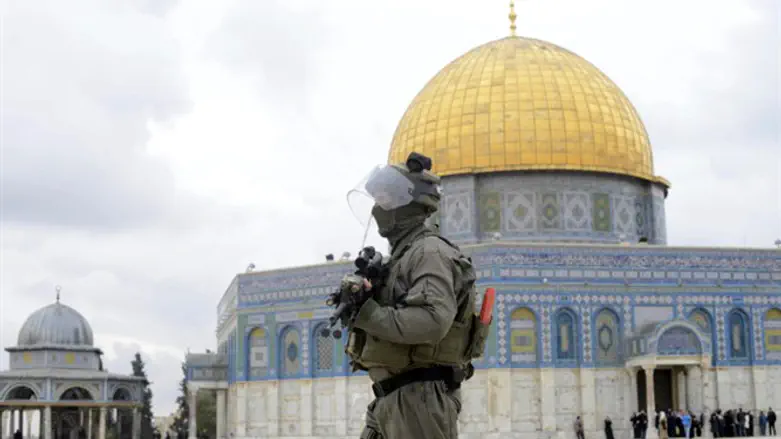 Israeli policeman on on Temple Mount,
Flash 90
For the first time in nearly two years, Knesset members will be allowed to ascend the Temple Mount.
The ban on MKs visiting the holiest site in Judaism will be lifted for only one day next Tuesday.
According to Channel 2 News, the Israel police are allowing members of the Israeli legislature to visit ascend the mount as a pilot program to see if the security situation would allow the visits to resume for good. The initial proposal was for the ban to be lifted for a full week. However, Prime Minister Binyamin Netanyahu ordered the plan plan be reduced to one day.
The ban on all MKs, Jewish and Arab, from ascending the Temple Mount has been in place since November 2015.
A few weeks ago, the Jerusalem district police chief, Yoram Halevi, recommended that the police commissioner attempt to renew the visits of the MKs to the holy site.
This morning, MKs Yehuda Glick (Likud) and Shuli Mualem (Jewish Home) asked to be allowed to ascend the Temple Mount. However, police turned them away.
Glick blasted the decision to bar MKs from the Temple Mount, calling it an infringement on MKs' individual rights.
"The time has come to put an end to this absurd situation, wherein any citizen or tourist can ascend the Temple Mount, but Knesset Members cannot. For me, visiting the Temple Mount is not simply a basic right or a religious commandment; it is my source of oxygen and the energy I need to continue my personal and public work. This morning, I will go to the entrance of the Temple Mount and demand to be allowed to enter."
Mualem said the policy of barring MKs ignored the real cause of disturbances on the Mount – Arab incitement.
"It's obvious to everyone that it is the Palestinian leadership that is responsible for the incitement on the Arab street, not Jewish Knesset Members. The fact that MKs, who represent [Israeli] sovereignty still are prevented from ascending the Mount is symbolic of the continuing loss of Jewish sovereignty there."