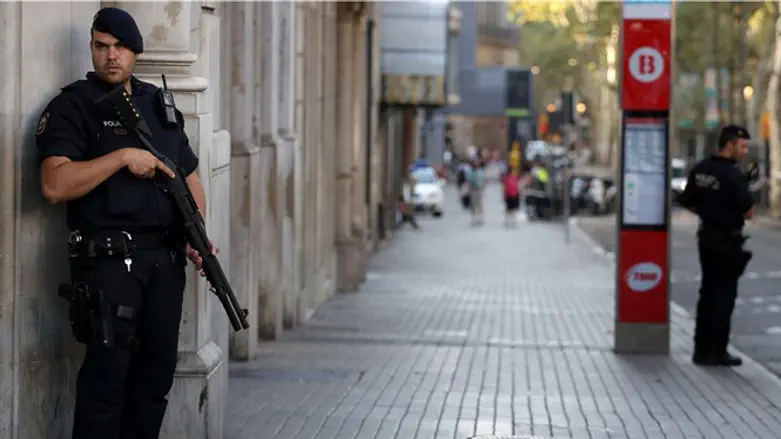 Barcelona following attack
REUTERS
The suspected terrorist wanted in connection with the deadly attack in Barcelona last Thursday may have fled the country, local authorities said Monday as police forces across Europe gear up for the manhunt of the driver who ran down over 100 people at a promenade popular with tourists.
Younes Abauyaaqoub, the 22-year-old Moroccan-born man suspected of driving the rented white Fiat van which smashed through crowds of pedestrians at the La Rambla promenade in Barcelona killing 14 and injuring over 100, is now the subjected of a continent-wide search, after Catalonian authorities admitted he may have crossed the frontier into France.
"This person is no longer just being sought in Catalonia but in all European countries, this is an effort by European police," Catalan official Joaquim Forn said, Reuters reported.
The report comes in stark contrast to claims by local police Sunday that they were closing in on "a person related to the attack" – widely believed to be Abauyaaqoub.
"We are close to a person related to the attack," Catalonia's Mossos d'Esquadra police force said on Sunday.
Abauyaaqoub is the last surviving member of the core group of four cell-members police have named in connection with the ramming attack on pedestrians near the La Rambla shopping area in Barcelona.
The other three terrorists, including Moussa Oukabir, 17, Said Aalla, 18, and Mohamed Hychami, 24, were all shot and killed by police during a second attack just hours later in Cambrils. One civilian was killed in Cambrils, while three more were injured, along with one police officer.
All four terrorists have been identified as Moroccan nationals.
Police now say Abauyaaqoub is the prime suspect in the initial attack in Barcelona which killed 14 and left more than 100 injured.
Beyond the core cell of four terrorists, authorities suspect eight others were involved in the attacks. Of the total 12 police suspect were tied to the attacks, 5 have been confirmed as killed, 4 are currently in custody, and 3 are at large.
The fate of one of the three, Imam Abdelbaki Es Satty, who is believed to be responsible for recruiting the terrorists, remains unclear at this time. Police suspect Es Satty may have died in an explosion at a house where gas tanks were being stored, possibly for an attack on a Barcelona cathedral.