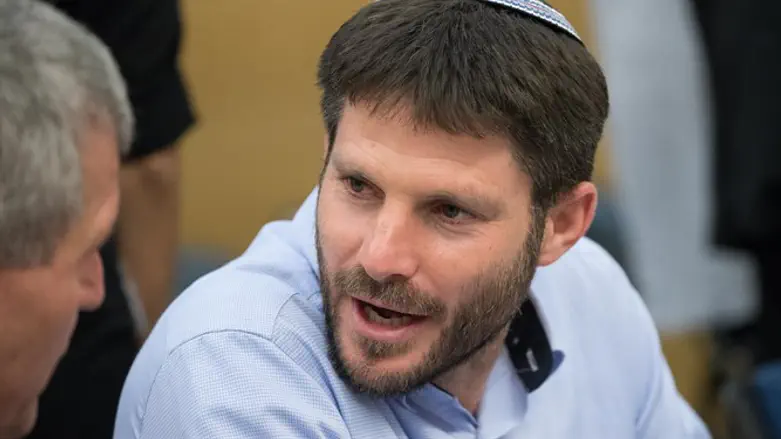 Bezalel Smotrich
Yonatan Sindel, Flash 90
Jewish Home MK Bezalel Smotrich on Thursday evening slammed Jewish Home CEO Nir Orbach for supporting Education Minister Naftali Bennett's (Jewish Home) decision to hire a spokeswoman from the LGBT community.
On Thursday, Orbach said that "the National Religious know how to respond in a variety of accepting ways to complex public issues. We've always known how to be a community which builds connections. Specifically when it comes to LGBT issues, we fail time and again, falling into pits which we once knew how to avoid."
In a WhatsApp group, Smotrich said he disagrees with Orbach "completely and totally."
"In reality, our greatest fail with the LGBT community was not at all similar to what he (Orbach - ed.) said. We do not embarrass them - we do the opposite.
"We have failed because we are paralyzed with fear, afraid to speak out against the moral and ethical distortions, and to fight with the LGBT movement's ideological and thought terror. None of us ever wanted to harm or insult an individual LGBT person.
"We have never, and will never, intervene in a person's private and personal life."
However, he said, "There is, and there must be, a determined fight against a movement which aims to uproot the family unit, and together with it the very morals and ethics upon which Judaism is founded."
According to him, there is a enormous and dangerous attempt to brainwash the Israeli public.
"Our fear of the political damage and losing our voters if we come out against the LGBT movement is causing us, at best, to avoid saying things clearly, and at worst, to support and capitulate."
Regarding Bennett's new spokesperson, Smotrich said that no one has any problem with what she does in her personal life, and "therefore no one said a word for the entire two years she has been working with Bennett - even though everyone knew she is a lesbian."
"The problem is that she turned her job into as a public display of pride, and used her position as 'Bennett's spokesperson' to participate in a campaign and fight which goes against our party's morals (and those of Judaism in general).
"If she was not Bennett's spokesperson, and did not introduce herself as such in that context, no one would have noticed her, and she would not have made it to Yediot Aharonot's headlines.
"The problem is with the support Bennett has given her, the fact that she flaunts it, and her attempt to use our party in order to gain popularity and support, and to present herself as an enlightened person working in a dark and dismal community."
Smotrich also noted that the party's Rabbi Yisrael Rosen agreed with him, and that Rosen had decided to resign because of Bennett's pro-LGBT stance.
"This is exactly what Rosen was talking about," Smotrich said. "It's not fair to say that Rosen decided to resign because he wanted Bennett to fire his spokeswoman. That's not what happened."
"I, too, oppose what Bennett is doing, and I oppose it even if it costs me a Knesset seat, even if it does me political harm."
Returning to Orbach, Smotrich continued his speech.
"This is one of the most important and significant topics in Israel today, and we cannot claim that everyone who speaks about clear moral positions and presents an alternative to the distorted discussion is 'trying to self-destruct' or 'obsessively insisting on banging their head into a wall,' as Orbach claims" he said.
In his opinion, what will destroy the Jewish Home party is not a firm stance on morals, but the attempt to draw any and all voters possible. These voters "may be with us today, and maybe with Yesh Atid tomorrow" and trying to woo them is a "great recipe" for ensuring the Jewish Home party vanishes completely.
"We 'obsessively bang our heads against the wall' when it comes to a Palestinian state, when it comes to the Regulation Law and the United Jerusalem Law, and when it comes to many other things," Smotrich said. "There's no reason or justification for not banging our heads into the wall for the moral and ethical values which are so significant and integral to the religious community, the State of Israel, and Israel's future."
"Will we only fight to the death about a Palestinian state? Or will we fight to the death for Judaism as well?" he asked.
"Just like I believe that G-d will help us with diplomatic issues, I believe G-d will help us deal with the LGBT issues. Human history has seen dark periods like this, and no one thought there was any chance of fighting, so they capitulated. But there were those who stood strong, did not get confused, and in the end, they won out.
"They will win today, too, because the world belongs to the One whose words created it, to the One who runs it. The world does not belong to the media who are praising Naftali (Bennett - ed.) for his courage and 'enlightenment.'"