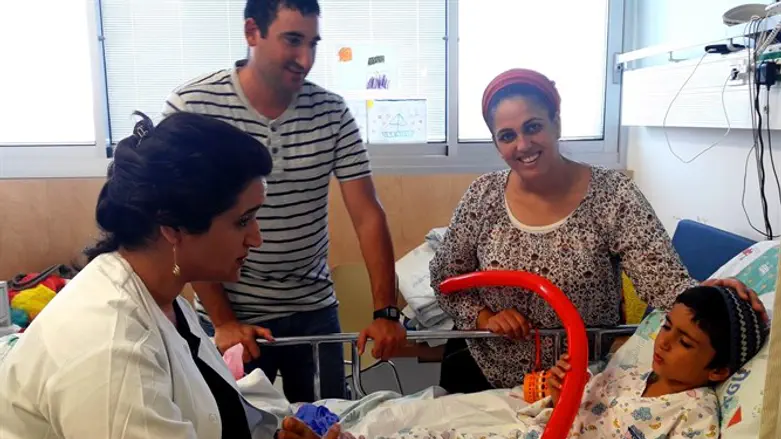 הראל child bitten by viper in hospital
Ziv Medical Center
A six year old boy was bitten by a poisonous viper while on a trip with his family in the Golan Heights Tuesday.
The incident occurred at a nature site in the Golan. The child, Harel Deshen, was evacuated to Ziv Medical Center in Tzfat, where immediate treatment prevented danger to his life.
The Deshens arrived at the nature site Monday evening to meet with friends who were camping nearby.
As he walked from the vehicle toward the campground, Harel suddenly felt a very strong pain in his left leg. He immediately told his parents that he felt something moving near his leg. Because it was dark, his parents, Tirza and Yakir, could not see the extent of the injury and rushed him into the campsite.
Using a flashlight, they discovered the two red marks of the snake bite. They realized that the snake was probably a poisonous species.
Yakir grabbed his son, who was crying from the pain of the bite, and ran with his friend back to the main road. It took fifteen minutes for them to reach the road. While they were running, they contacted Magen David Adom to send an emergency response team to treat and evacuate Harel.
The snake's poison had begun to affect Harel when they reached the road. His pulse slowed, he had difficulty breathing, and was suffering from seizures. He lost consciousness as soon as they reached the children's emergency room in Ziv Medical Center. An expanded medical team of pediatric screening and pediatric intensive care specialists were able to save his life.
Dr. Motti Eini, a senior pediatrician at the Ziv Medical Center, says that about half an hour after the bite, the child had lost consciousness and had extremely low blood pressure. The doctors used snake antivenom to counteract the poison's effects. They also provided Harel with medication to raise his blood pressure and placed him on artificial respiration machines.
About two hours after Harel's hospitalization, the blood pressure medications were stopped. The next morning, the doctors awakened Harel and took him off the respirator. He still suffers from swelling throughout his left leg and has difficulties with movement, symptoms which will be treated by physiotherapy in the coming weeks.