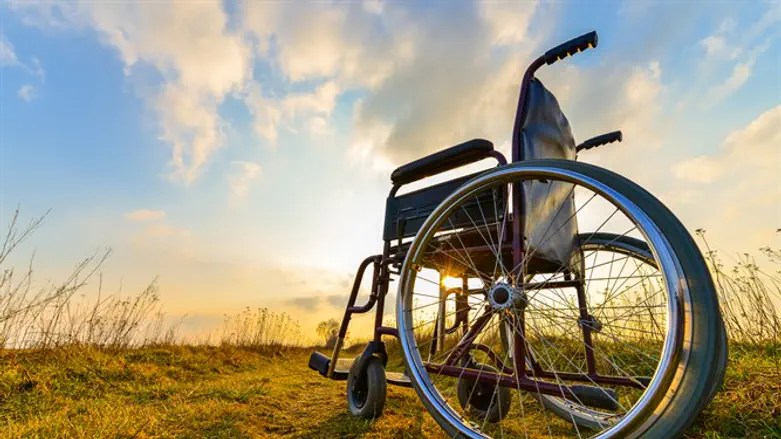 Wheelchair
iStock
After several years of being wheelchair-bound, a Gaza preschooler is finally walking again - thanks to Israeli experts.
Previously, Suleiman was not able to stand or put weight on his legs. He recently underwent surgery to remove a tumor from his chest at Jerusalem's Hadassah Ein Kerem Hospital.
4-year-old Suleiman was transferred by a Red Crescent ambulance to Hadassah Ein Kerem a few weeks ago, suffering from severe breathing difficulties.
"He was suffering from shortness of breath and required oxygen," Cardiothoracic Surgery Unit Director Professor Uzi Izhar said.
According to Professor Izhar, the Suleiman, who lives in Gaza, was born with several congenital defects in his spinal column and chest, and underwent several unsuccessful attempts to diagnose his condition before arriving at Hadassah.
In one of the previous procedures, Suleiman underwent a surgery intended to reduce the weight caused by underdeveloped vertebrae on his cervical spine. However, his health did not improve after the surgery since his other health problems were not adequately dealt with.
"Meanwhile, Suleiman developed a tumor on the right side of his chest," Izhar explained. "This tumor pressed against both his spine and his lung. Because the lung was not able to develop properly, Suleiman consistently developed infections and there was chronic damage to the lung. When he arrived at our hospital, he had severe pneumonia in his entire right lung."
Suleiman was then placed in the children's ward, where he received care from expert lung doctors. He underwent several tests before the staff decided to operate on his chest.
"Over the past two years, Suleiman ceased walking and was no longer able to use his feet. He could not stand on his feet or even move them, and his parents were forced to push him in a wheelchair. He couldn't even feel his lower limbs," Izhar said.
"After his breathing improved, we decided to remove the tumor in his chest."
The tumor was successfully removed in its entirety, and Suleiman's quick recovery surprised even his doctors.
"After the tumor was removed, Suleiman began his recovery in Hadassah's pediatric intensive care unit. From there, he was transferred to the surgical ward. His breathing improved considerably, he was taken off the oxygen he was on for the past two years, and he began to eat well," Izhar explained.
"The next step was unavoidable.We told him, 'Come on kid, let's start walking.'
"We figured that even though the tumor wasn't in an area directly influencing his feet, removing the tumor in his chest would reduce the load on his spinal cord and improve his breathing and nutrition. This, in turn, would help him start walking."
Suleiman's cooperation surprised even himself.
"He took our request seriously, and we stood him on the floor. With great effort, he moved one leg, then the other. He really wanted to walk - we saw how determined he was, even at 4 years old.
"The next day was even more impressive: When I arrived at the ward, I saw him walking, holding onto the wheelchair he had used to move from place to place until then. The chair was always transporting him, and now the roles were switched - he was pushing the chair all over the ward."
Israeli hospitals have always treated sick Arabs, including Gazan citizens and victims of Syria's civil war; many of these people are treated on Israel's bill. And Arab families in Israel - even in Hevron - know that Israel's Border Police officers can and will help them if they or their children are injured or ill.