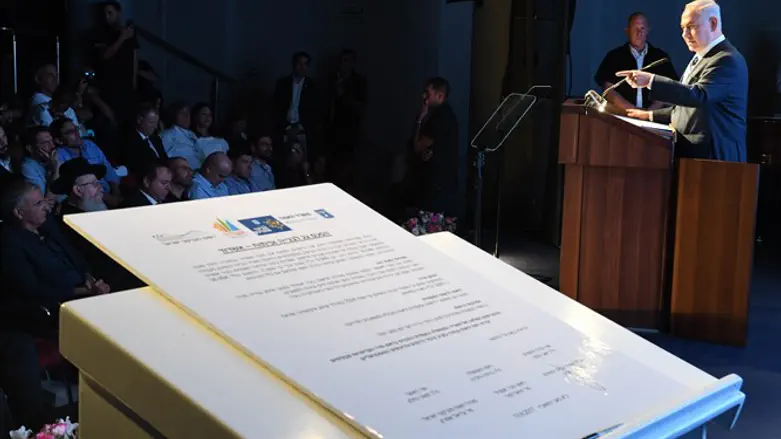 Netanyahu speaks in Ashdod
Kobi Gideon/GPO
Israel will not allow Iran and its proxies to take over areas vacated by the Islamic State (ISIS) group, Prime Minister Binyamin Netanyahu made clear on Sunday.
"Today we received a review from the head of the Mossad about the security challenges we face. I will give summarize it on one sentence – ISIS out, Iran in. We are talking mainly about Syria," Netanyahu said in Ashdod, referring to Mossad Director Yossi Cohen's assessment that the Iranian regime is expanding its control across the Middle East through proxy forces in Syria, Lebanon, Iraq, and Yemen.
"Our policy is clear," said the Prime Minister. "We strongly oppose the military buildup of Iran and its proxies, first and foremost Hezbollah in Syria, and we will do everything necessary to maintain Israel's security. That's how we act."
"We are guarding the state and its borders. We are strengthening the IDF, strengthening the security forces all the time, in order to ensure security, because we know first and foremost that in order to build the land, we have to protect the land," he stressed.
Cohen told the cabinet in his briefing on Sunday that Iran has not abandoned its aspirations to become a nuclear power, and that the nuclear agreement signed between the world powers and Iran only strengthens Iranian aggression in the region.
Netanyahu had been a major opponent of the Iran deal, lobbying members of the U.S. Congress to vote against the plan, and warning that the accords would pave the way for Iran to become a nuclear power.