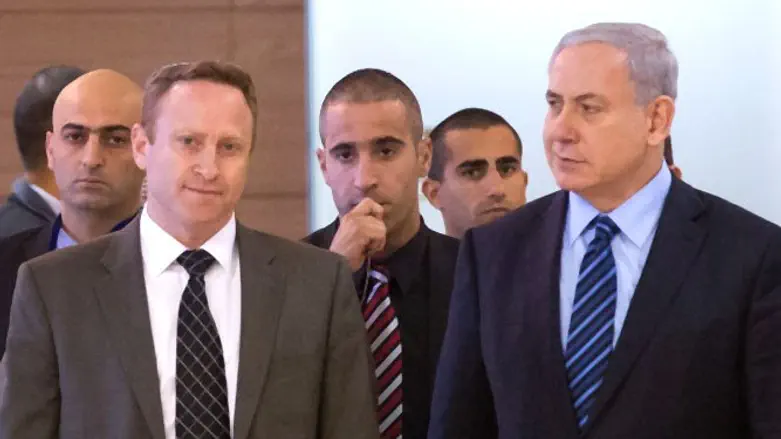 Ari Harow and Netanyahu
Flash 90
Ari Harow, an American-born religious Zionist who has worked for many years with Netanyahu and is considered to be his closest confidant, signed a deal last week with the State Prosecutors office to become a state witness.
The brilliant young man moved from relative obscurity to the center stage, and is now a significant part of one of the country's biggest news stories.
Harow, who had always been careful to remain "behind the scenes" throughout his years of public service, has now been thrust to the center of a media circus. Conversations that Arutz Sheva had with some of his friends offers a glimpse into the life of former Netanyahu Chief of Staff turned political consultant, who until a few years ago seemed a rising star in Israel's public service.
Ari Harow was born in 1973 in Los Angeles, the second child of Glenda and Dr. Ed Harow, a religious American Jewish couple who had first met at the local Bnei Akiva youth group. Ari has three biological siblings, along with three adopted brothers. His paternal grandfather was one of the outstanding leaders in the Jewish community and a successful businessman in the medical field, having serevd as president of both the Hillel school where Ari studied as a child, and of a synagogue in Beverly Hills.
Harow immigrated to Israel in 1985 at the age of 12 and moved to Ginot Shomron in Samaria, where he studied at the Yeshiva High School in Karnei Shomron. He later enlisted into the IDF and served in the Golani Brigade as a combat soldier.
Harow holds a BA in Psychology from New York University, and an MA in Political Science from Tel Aviv University.
In 2002, at the tender age of 29, Harow was tapped to serve as Binyamin Netanyahu's advisor for foreign relations and was in charge of fundraising abroad. Ron Dermer, now Israel's ambassador to the United States, was an acquaintance of Harow going back years, the years when they played together in the American Football League, as did Eli Groner, currently the Director-General of the Prime Minister's Office.
A year later, he was appointed Director-General of the 'Friends of the Likud' movement in the United States, and spent three years recruiting donors and raising donations for the Likud throughout the United States and Canada, before returning to Israel with his family.
Following the resignation of Netanyahu's bureau chief (current Justice Minister Ayelet Shaked) in 2008, he was promoted to take her place.
During his tenure he was considered to be very close to Binyamin Netanyahu, and those who worked with him at the time described his work as "diligent, dedicated and professional." At the same time, they testify " that he was able to stay on good terms with his superior and subordinates, something which is not always common."
At the beginning of 2010, he left his job as Binyamin Netanyahu's office manager due to health conditions (heart disease).
Harow and his brother set up a business development and consulting firm called 3H Global.
In September 2013, Prime Minister Netanyahu asked Harow to come back and work for him, this time as his chief of staff.
Sources close to Harow said that he "he didn't hesitate even though it came at a significant economic cost, because he preferred to donate his time to public service, even if it came with a decline in conditions.'
Harow signed a conflict of interest agreement in which he undertook to disengage completely from the company he established, which he transferred in full to his brother,Josh.
In March 2014 he was appointed chief of the staff of the Prime Minister's Office, replacing Gil Shefer who had just resigned, and as of September 2014 he also served as the deputy director of the Netanyahu's bureau.
Prior to the 2015 election campaign, he retired from the Prime Minister's Office and moved to the Likud's election headquarters.
Friends described Harow as a patriot and a moral person, who put the good of the country before himself.
Former cabinet secretary Zvi Hauser told Arutz Sheva that "I first met Ari at the Prime Minister's Office, and I saw him handle things during in a number of difficult situations, in which he operated with dignity and he often sacrificed his personal interest for the public. It hurts me to see how he was caught up in the events."
The former director-general of the Prime Minister's Office, Eyal Gabai, who worked with Harow called him "a Zionist and a patriot, devoted to the state and his job."