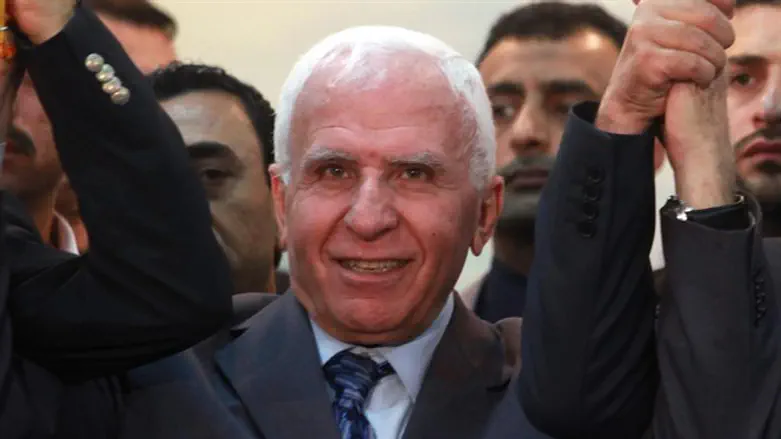 Azzam al-Ahmed, Ismail Haniyeh
Flash 90
Fatah, the faction headed by Palestinian Authority (PA) chairman Mahmoud Abbas, denied on Monday reports in Arab media that Egyptian President Abdel Fattah Al-Sisi had proposed a unity deal for Fatah and Hamas.
The reports said that Al-Sisi's initiative includes six clauses, including the dismantling of the Hamas-run government committee for Gaza, the cancellation of the PA's punitive measures against Gaza and Hamas, allowing the PA to exercise its authority in Gaza, and solving the issue of public service workers in Gaza who were fired in recent months.
The reports also claimed that Hamas accepted the deal but Abbas, while originally accepting it, later backed down.
Azzam Al-Ahmad, a member of the Fatah Central Committee, denied on Monday that the Egyptian President had ever even presented such a deal to Abbas.
According to Al-Ahmad, the report is based on "the imagination of the anonymous sources who gave the information to the newspaper's correspondent in Gaza."
"Following the meeting between the President [Abbas] and President Al-Sisi, meetings and direct talks were held between Fatah and Hamas and with me personally, without anything new that should be discussed being brought up," he added.
Hamas and Fatah have been at odds since 2007, when Hamas violently took control of Gaza in a bloody coup.
A unity government between Hamas and Fatah collapsed in 2015 when Abbas decided to dissolve it amid a deepening rift between the sides.
In recent months, Fatah has finally acknowledged that it has no control over Gaza and is now trying to force it to return control of the enclave by creating economic pressure on the group, most notably by cutting electricity supplies to Gaza through Israel.
In addition, the PA also recently decided to force more than 6,000 employees in Gaza into early retirement. It later halted salary payments to more than 30 lawmakers affiliated with Hamas.
On Saturday, Abbas said at a gathering in Ramallah that the measures against Hamas will continue until Hamas accepts his demands for reconciliation.