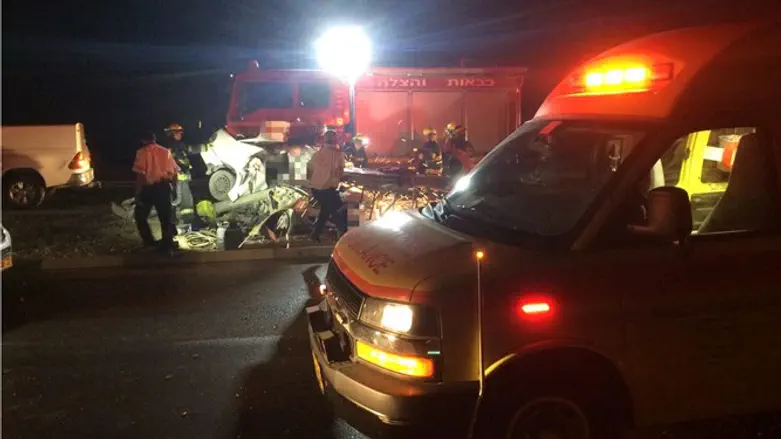 Scene of accident in Beer Sheva
MDA
A young woman was killed just before midnight on Sunday in a traffic accident on the Beer Sheva bypass road in southern Israel.
The woman, estimated to be approximately 20 years old, was killed when the vehicle she was travelling collided with a pole on the side of the road and flipped over, trapping her and the driver.
At approximately 11:30 p.m. Sunday night, emergency medical teams were dispatched to the scene of the accident. The young woman and the driver, also roughly 20 years old, were found injured trapped inside the vehicle.
MDA first responders were able to free the two, but were unable to resuscitate the female passenger, and were forced to declare her dead at the scene. The driver was treated at the scene, then evacuated to Soroka Medical Center in Beer Sheva. He has been listed in moderate condition.
"This was a very serious car accident; people inside the car which had hit the pole were trapped," said MDA paramedic George Yeshayvitz. "The passenger who was sitting in the front seat next to the driver was unconscious and had multiple serious injuries. She had no vital signs, and during the complex rescue operation [to remove her from the car] she was declared dead. The driver of the vehicle, a young man in his 20s, had also been trapped, and was evacuated to the hospital by an emergency care unit in moderate condition."