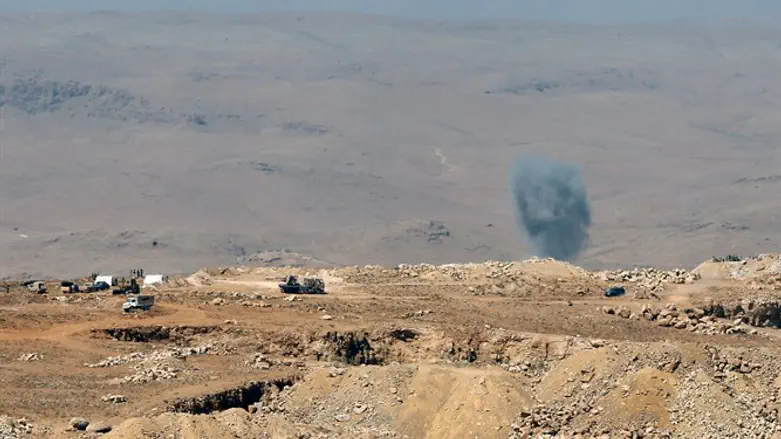 Smoke at the Syria-Lebanon border
Reuters
The Lebanese army on Sunday captured a number of strategic hilltops bordering Syria from Islamic State (ISIS) jihadists, The Associated Press reported, citing the army and state media.
Lebanon's National News Agency said the army captured several hills between the frontier towns of Ras Baalbek and Arsal, and the army said in a statement it destroyed ISIS fortifications and killed several of its members.
The civil war in neighboring Syria has spilled into Lebanon since it began in 2011, with ISIS group and the Al-Qaeda-linked Al-Nusra Front carrying suicide bomb attacks in Lebanon.
Al-Nusra also joined an incursion into the Lebanese border town of Arsal in 2013 and its fighters captured several Lebanese soldiers when they pulled out.
The Syrian civil war has spilled over into Lebanon mainly due to Hezbollah's involvement in the fighting. Hezbollah's strongholds have come under repeated bomb attacks over its involvement in the Syrian conflict.
Sunday's reports came two days after Hezbollah leader Hassan Nasrallah announced the Lebanese army would lead the fight to drive out ISIS from the border region once and for all.
Fateh al-Sham Front, the current name of Al-Nusra, agreed to vacate the frontier region in July, following a two-weeks-long military operation spearheaded by Hezbollah on the Lebanese side and the Syrian army on the other, according to AP.
More than 1,000 militants were given safe passage to Fateh al-Sham's stronghold in northwest Syria's Idlib province. Some 6,000 Syrian refugees accompanied them, preferring not to stay in Lebanon.