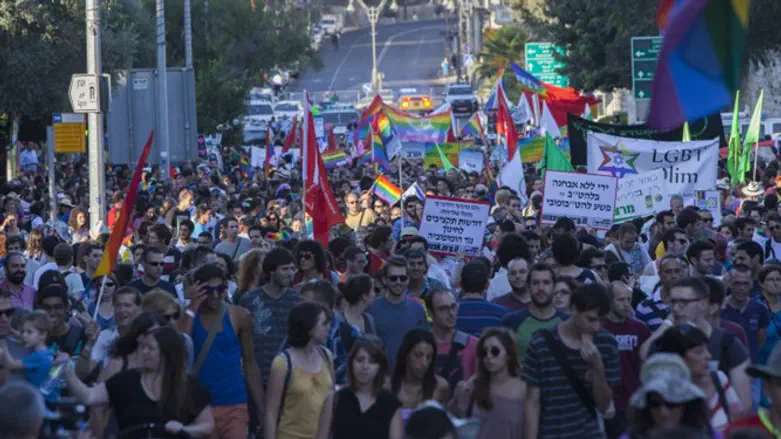 Gay Pride Parade in Jerusalem
Flash 90
"Important" rabbi follows "charismatic" rabbi jumping to the public stage in desperate attempts to be even more radical and far-reaching than the others.
With considerable effort, they humiliate, insult, and push those who call themselves the "gay community" out of society.
Nevertheless, the religious within the community remain steadfast in their faith and devotion to their forefather's tradition, insisting that the expressions "gay religious" and "religious lesbian", despite the complications involved, are not oxymorons.
In light of this, the Open House for Pride and Tolerance in Jerusalem decided to pay homage to these people and to march this week under the heading "Religion and LGBT."
No one, including the religious within the gay community, expects rabbis or the religious communities to permit the specific act described in the Bible, which remains forbidden.
But how did these rabbis find it permissible to embarrass, ridicule, and hate their own people, who despite the public dislike of many "leaders" insist on remaining faithful to a life of Torah and mitzvot?These people, who suffer from severe discrimination and rejection from society as a whole, must be embraced, encouraged, brought together, and integrated.Instead, the heart is pained and the shame increases from the horrific repetition of expressions too harsh for our ears.
Cruelty, callousness, and indifference to the suffering of others are not the Torah way, and apparently stem from unconsciousness and lack of contact with fellow human beings in the image of God, against whom they incite. The alienation and ugliness resulting from abusive lectures, insulting petitions, and arrogant interviews reveal a lack of personal acquaintance with the people who receive their insults, and who daily face the chasm between their religious identity and their sexual identity.
These rabbis imagine that they are observing the Torah, while they merely besmirch its reputation.It seems that when they pour their venomous, destructive, and even lethal words on the gay community, they completely cut off their influence on the Israeli public, who are disgusted by the blatant and violent humiliation of our flesh-and-blood brothers.
The Sages have already said of such conduct that whoever causes a public to be ashamed before those who learn Torah desecrates the Creator, an unforgivable sin.Maimonides also wrote of this style of behavior that "the Torah laws are not to wreak vengeance upon the world, but to instill compassion and mercy and peace in the world."
Indeed, the gay community in general, and the religious ones in particular, deserve a relationship of compassion, mercy, and peace, as does any Jew, regardless of his commitment to the commandments.This is whether in their distress they feel that they have no choice but to march for equal treatment and inclusion, or whether they simply want to live with us and merge within our communities.
(The article was authored by Rabbi Yitzchak Greenberg, founder of Tikkun, author and educator, and Rabbi Yitzchak Eisner, a member of the Hillel House Rabbis and Rabaniyot organization.)