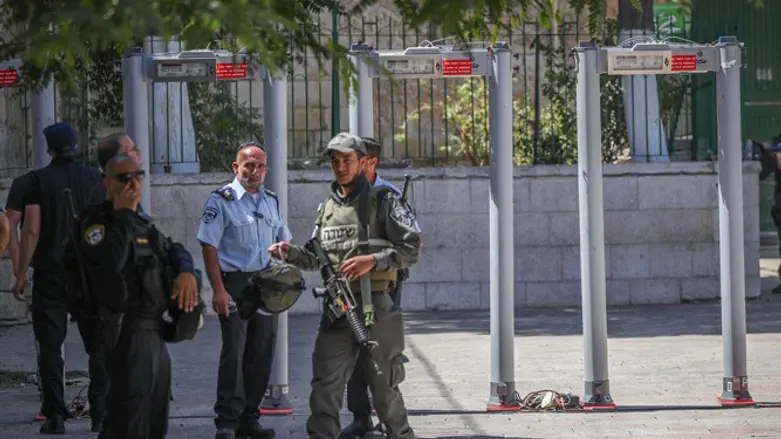 Metal detectors on the Temple Mount
Yonatan Sindel/Flash90
Israeli Prime Minister Binyamin Netanyahu spoke to Palestinian Authority (PA) President Mahmoud Abbas after the deadly terror attacks on the Temple Mount in July, promising that Israel would not take any steps that would escalate the situation, the Al-Hayat newspaper reported.
The report, which quoted senior PA officials, also said that the PA leader "felt betrayed" after Netanyahu went ahead and installed the metal detectors on the Temple Mount shortly thereafter.
The source blamed Netanyahu for the subsequent Arab violence after the attack, saying that "Abbas held intensive meetings with Saudi Arabian head King Salman, who rules the two holiest mosques in the Islamic world, in order to calm the relevant parties, but Netanyahu was determined to escalate it," he contended.
Netanyahu closed the Temple Mount entirely, and decided to install metal detectors and security cameras on the Temple Mount shortly after a murderous terror attack on the Mount left two policemen dead. Claiming that the security measures violated the status quo, the PA severed its security cooperation with Israel, and has since encouraged a wave of Arab violence.
Ensuing violence has included the Friday-night murder of three members of the Salomon family in Neve Tzuf (Halamish) and mass Arab rioting throughout Judea and Samaria. Netanyahu ultimately removed the metal detectors last week as part of a deal made with Jordan to free an embassy security guard who had killed an attacking terrorist.