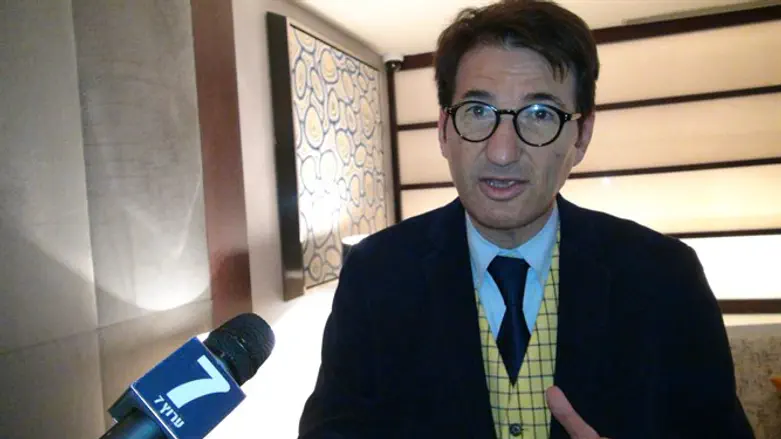 Israel Hayom editor Boaz Bismuth
Hezki Baruch
Yisrael Hayom editor Boaz Bismuth defended his newspaper after a top journalist called it a "defective product," and "strange."
"Its your problem that you find us defective, not the Israeli people," Bismuth fired back at journalist Yaron London, who also writes for its competitor. "We are the top newspaper in circulation, which took us far less then ten years to get to. "
"Maybe we are defective," contined Bismuth. "We are defective because we finally produced a newspaper that the Israeli people feel comftorable reading."
Bismuth had been invited on the London et Kirshenbaum show to celebrate a decade since the newspapers launch, but the conversation quickly turned contentious after host Yaron London accused the paper of being a mouthpiece for Prime Minister Netanyahu, an accusation that has dogged the newspaper for years.
The London et Kirsehnbaum studio also put up a graphic during the interview that showed Netanyahu wishing 'Happy Birthday' to Yisrael Hayom. "Look behind you, and tell me you don't have an agenda" charged Bismuth.
Yisrael Hayom is a newspaper owned by American billionaire Sheldon Adelson, and is the largest newspaper in circulation. It is handed out for free all over the country every morning by employees in distinctive red jumpsuits, and its right wing slant has put it at loggerheads with the established media, particularly the Yediot Achronot newspaper, its main competitor.
In 2014, the Labor party tried to legislate the newspaper out of existence by means of the 'Yisrael Hayom Law,' which would have outlawed distributing newspapers for free. Israel Hayom fought back, accusing politicians of being a tool for Yediot Achronot publisher Noni Mosez to squqelch potential competition in exchange for favorable coverage.