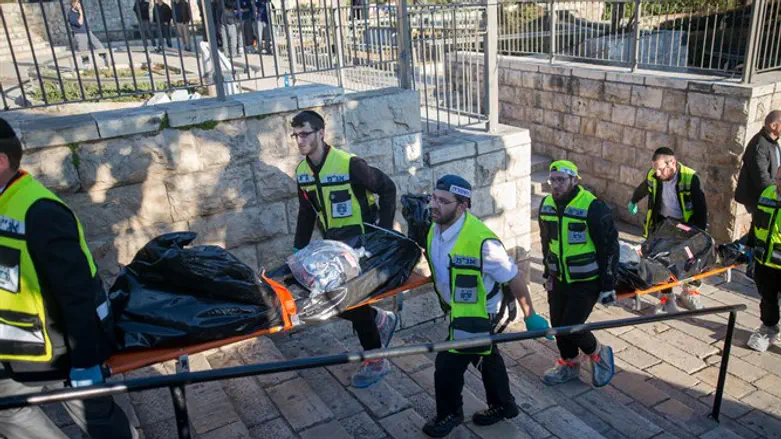 Zaka volunteers evacuate terrorist's bodies
Yonatan Sindel/Flash 90
JTA - The ZAKA search and rescue organization has established a Kohanim unit to respond in case of future terror attacks on the Temple Mount.
The unit announced on Sunday was formed by the haredi organization in the wake of the July 14 terror attack on the Temple Mount, in which three Arab-Israeli terrorists attacked and murdered two Druze Israel Police officers at the site.
Many rabbis, including the Chief Rabbinate, forbid Jews from visiting the Temple Mount since only those who are ritually pure could enter areas on the site whose exact location is in dispute. Since all people are considered ritually "impure" today due to contact with dead bodies at hospitals, cemeteries and other places and since the specific biblical halakhic ritual to regain purity does not exist today, this makes ascending the mountain a severe transgression. Other rabbis, however, allow someone who has immersed in a ritual bath, a mikva, to visit the site.
Immediately after the July 14 attack, the ZAKA Rabbinical Council, headed by Rabbi Avigdor Nebenzahl, rabbi of the Old City of Jerusalem, determined that a single volunteer should immerse in a mikvah and go to the Temple Mount to remove the dead bodies of the police and terrorists, after instruction on the areas of the site where it is clear Jews are forbidden to step.
The rabbinical council continued the discussion after the attack, according to ZAKA, and determined that due to the holiness of the site "there is a religious obligation to remove every dead body from the Temple Mount whether the body is that of a Jew or non-Jew, or even a terrorist."
The rabbis also determined that in an emergency, sending a Kohen was preferable to sending another Jewish volunteer. Kohanim avoid being in the presence of the dead and do not visit cemeteries (in fact, Israeli hospitals put up signs saying they are off limits to Kohanim when a death occurs) so there is a high probability they are not ritually impure. If time permits immersing in a mikva, that is preferable.
Kohanim do not usually volunteer for ZAKA since they are prohibited from coming into contact with dead bodies. Despite this, ZAKA has recruited a team of volunteers made up of Kohanim living close to Jerusalem's Old City for the special unit.
The prohibition of walking on the Temple Mount was pitted against the prohibition of having a dead body remain there and made the halakhic decision a difficult one.
"These are weighty questions about the most severe prohibitions in Jewish law, with their violation carrying a punishment of karet (being cut off from the Jewish people). Therefore, it was very important to ZAKA to receive clear directions for the volunteers in accordance with Jewish law. I have much admiration for the ZAKA rabbis who were not afraid to address these difficult issues, when not many rabbis are willing to deal with them," ZAKA Chairman Yehuda Meshi-Zahav said in a statement.