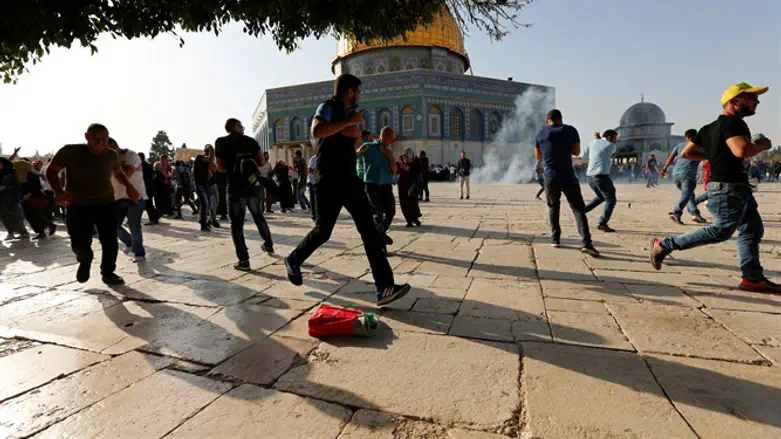 Riots break on Temple Mount, July 27th 2017
REUTERS
Iran directly encouraged recent Arab riots in the Old City of Jerusalem by distributing food packages with notes of encouragement to rioters, Israel Hayom reported.
According to the report, every couple of hours, the rioters would receive packages containing various food items and drink. The packages included flyers showing the Dome of the Rock Mosque and a well-known phrase of Iran's Ayatollah Khamenei: "With the help of Allah, Palestine will be liberated! Jerusalem is ours!"
A senior PA intelligence official told Israel Hayom that "it is clear to us that the government in Tehran, with its long arms, stands behind this food drive."
"We're talking about millions of shekels, and the Iranians found the way to transfer the message, right under the nose of Israel, that Iran is the one that cares about [the Palestinian Arabs]. The flyer attached to every package with the quotes from Khamenei made perfectly clear who stands behind the food packages."
Another PA intelligence official told Israel Hayom that PA security forces had been aware of the Iranian plan, but had not notified Israeli security due to the freeze in security cooperation PA Chairman Abbas had instituted in the wake of the Temple Mount crisis.
"If it had been up to the Palestinians, this wouldn't have happened," he said. We wouldn't have let the Iranians trample in like this because the reaction from Arab countries would have come back and hit us like a boomerang. Apparently the Iranians understood that they could execute the operation without Israeli authorities asking too many questions. We had information about their intentions to allot large sums for the food baskets, but the instruction we were given was not too cooperate [with the Israelis], and we acted accordingly."
Nevertheless, senior PA leaders close to Abbas expressed anger at the Iranian attempt to establish an image as caregiver for the Palestinian Arabs.
"Nothing is off limits for the Iranians, and they send their tentacles everywhere," an official in Abbas' office said, according to Israel Hayom. "It was a big mistake to allow them to stomp in like this."