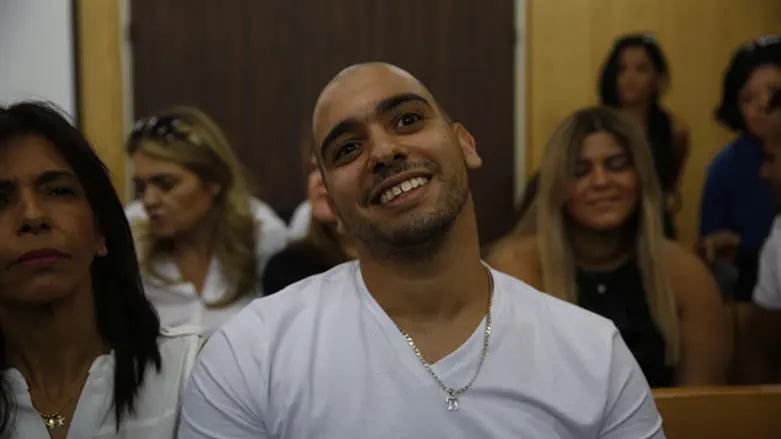 Elor Azariya in court
Tomar Applebaum
IDF Chief of Staff Gadi Eisenkot addressed the rejection of former IDF Sergeant Elor Azariya's appeal Sunday evening and stated that if he received a request for leniency from Azariya's lawyers he would seriously consider it.
"The IDF fights terrorism in a determined, professional and ethical manner," the chief of staff said. "IDF forces, including the Shimshon Brigade and the Kfir Brigade, stand day and night in a unique and unusual challenge. The IDF commanders and I are full of admiration and pride for their achievements and the manner in which the missions are carried out in the face of an enemy. "
"Sergeant (res.) Elor Azaria is an IDF fighter who served like many of our soldiers at the forefront and took part in the common challenge of providing security to the citizens of the State of Israel."
Eisenkot said that the military court has spoken clearly. ''The military justice system held an impartial, professional, and independent procedure, and ruled without any external or internal interference. The IDF under my command dealt with studying the incident, drew lessons from it, and will continue to do so in light of the verdict given today."
The chief of staff promised to give serious consideration to a request for leniency should Azariya submit one. "The legal proceedings in the military court have ended. If Sgt. (res) Azariya chooses to submit a request for leniency in his sentence, it will be considered seriously, while examining all the relevant considerations and out of my sole obligation to the IDF's values and soldiers."
Elor Azariya was convicted of manslaughter in January for shooting a wounded terrorist last March. Azariya was sentenced to 18 months in prison.