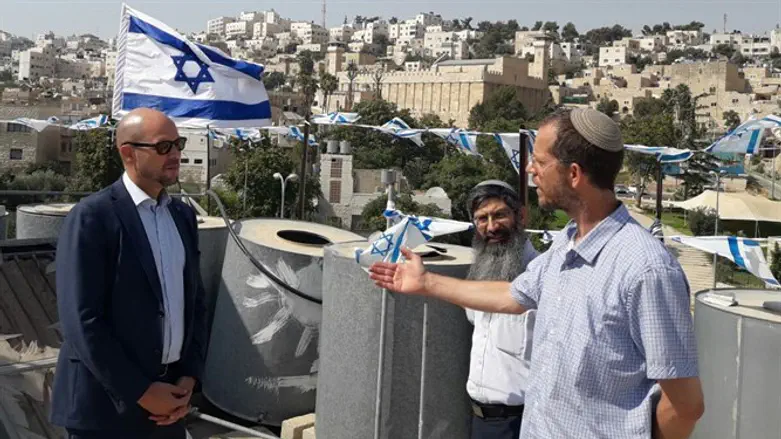 Amir Ohana at the Machpela House
'Harhivi' Movement's spokesperson
Hundreds of thousands of Likud activists gathered on Thursday in Tiberias, demanding Israeli Prime Minister Binyamin Netanyahu allow the families living in Hevron's Machpela House to remain in their homes.
The building was bought legally by Jews, but when the families tried to register it under their names, the Registration Committee decided to abandon the process. Later, the Military Appeals Committee decided to order the Registration Committee to complete the process.
Environmental Protection Minister Zeev Elkin (Likud) visited the Machpela House and noted that "as far as he understands, the building is located in a key area near the Cave of the Patriarchs (Mearat Hamachpela)."
Elkin called on Netanyahu and Defense Minister Avigdor Liberman (Yisrael Beytenu) to immediately approve the building for residency.
"The Machpela House in Hevron, more than anything else, represents the Jewish nation's connection to our forefather's city of Hevron. This is about basic rights to legally acquire a home. The Israeli government should immediately approve the families' ownership of the building, and I will do everything I can to advance that," Elkin said.
On Friday morning, just before leaving for a trip abroad, Tourism Minister Yariv Levin (Likud) said, "That these families have a right to live in the Machpela Houe is clear. It cannot be interpreted in any other way. These families' right to buy a home is anchored in the law. Any attempts to remove these families or to place discriminatory restrictions on their ability to remain is absolutely unacceptable and improper."
MK Amir Ohana (Likud) on Thursday night visited the Machpela House, called by that name for its proximity to the Cave of the Patriarchs, Me'arat Hamachpela, and said, "If something this absurd happened anywhere else in this world, we would have screamed 'anti-Semitism!' Apparently, only in the Jewish state are you allowed to throw someone out of a home they paid for in full - as long as that person is a Jew."
"It's time we told ourselves, the government, and the world, 'Enough with the absurdity! This building needs to remain populated by its residents, and the Jewish population in Hevron and in all of Israel needs to succeed and flourish.'"
Former Minister Gidon Saar responded to the entry of Jewish families to the Machpela House in Hevron and called to leave them in the building which was legally acquired and not to evict them.
"More than 5 years have elapsed since Machpela house was purchased and a request for a legal permit was submitted, it's time to approve it and strengthen the Jewish community in Hevron," said Saar.
Earlier this month, Israeli security forces blocked Jews from entering the Machpelah House and Rachel and Leah House in Hevron, both of which were bought by Jews several years ago. Two days ago, fifteen families moved into the building,