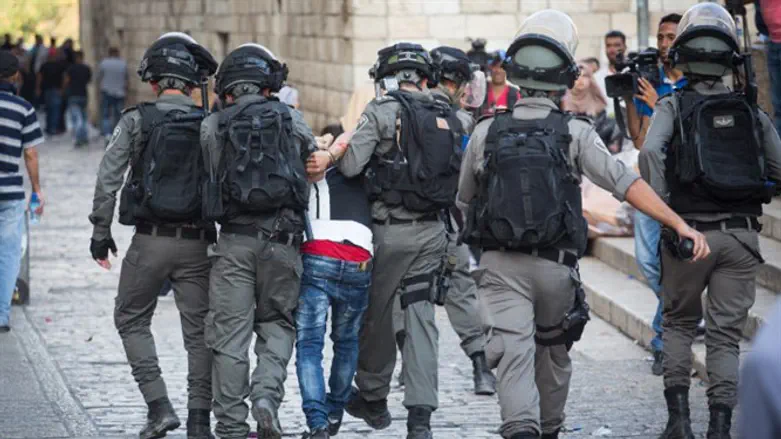 Security forces in Jerusalem
Hadas Parush/Flash90
On Thursday night Israel Police removed from the area people who planned to stay overnight in the Al- Aqsa mosque and take part in demonstrations on the Temple Mount on Friday, a police spokesman reported.
A number of suspects were arrested after disturbances took place at the scene.

Security assessments were made and there are indications that disturbances and demonstrations will take place on Friday.
Due to this assessment, only men over the age of 50 and women of all ages will be permitted on the Temple Mount on Friday.
Access to a number of roads around the Old City will be limited, as all necessary security measures are being taken to prevent and to respond to any outbreak of violence.
Additional Israel Police and Border Police officers are stationed around Jerusalem, especially the areas just outside Jerusalem, in and around Jerusalem's Old City, the Western Wall, and the Temple Mount. These units will respond to any disturbances in and around the it.
Jerusalem District Commander Yoram Halevi held a meeting to discuss the week's events, which included disturbances and violence in Jerusalem's Arab neighborhoods and at the entrances to the Temple Mount.
During the meeting, police discussed new intelligence information showing that extremist groups were planning to cause violent disruptions, disrupting the peace and endangering the general public, not only Temple Mount worshipers.
Halevi emphasized the necessity of these measures to ensure the security, safety, and well-being of worshipers at the Western Wall, Old City residents, and those ascending the Temple Mount.