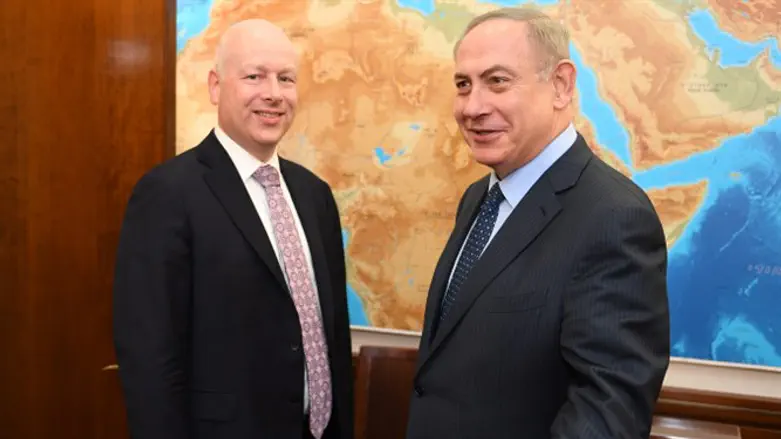 Jason Greenblatt meets Binyamin Netanyahu (archive)
Flash 90
U.S. President Donald Trump's special envoy, Jason Greenblatt, will arrive in Israel on Monday amid the backdrop of the Temple Mount crisis and escalating tensions in Judea, Samaria and eastern Jerusalem, Haaretz reported on Sunday night.
A senior official in the Trump administration confirmed to the newspaper that Greenblatt is heading to the region "to support efforts to reduce tensions in the region."
During his visit to Israel, Greenblatt is expected to be in contact with Trump's senior adviser Jared Kushner and keep him updated on the contents of his talks, according to Haaretz.
Earlier on Sunday, CNN reported that Kushner, who is also President Donald Trump's son-in-law, is leading the American efforts to quell the crisis in Jerusalem.
A senior official in Washington told the network that Kushner is working with Israelis, Palestinian Arabs and Jordanians in an attempt to resolve the issue.
In relation to Greenblatt's upcoming visit, the senior official told Haaretz, "President Trump and his administration are closely following unfolding events in the region. We are engaged in discussions with the relevant parties and are committed to finding a resolution to the ongoing security issues."
The official added that "The United States utterly condemns the recent terrorist violence including the horrific attack Friday night that killed three people at their Shabbat dinner table in Halamish and sends condolences to the families of the innocent victims."
Israel placed magnetometers (advanced metal detectors which are selective in which metals they react to) and additional security cameras around the entrances to the holy site following a terrorist attack at the compound in which two Druze police officers were murdered.
The security measures prompted an outcry from the PA, the Jordanian Waqf, and the Jordanian government.
Arabs have rioted in the Old City and in Judea and Samaria in protest against the security measures. On Friday, three rioters died in clashes with Israeli forces.
Last week, Kushner held a call with Prime Minister Binyamin Netanyahu, who was in Hungary, as they tried to agree on a plan to end the violence. Kushner also spoke with Palestinian Authority (PA) chairman Mahmoud Abbas on the issue, according to CNN.