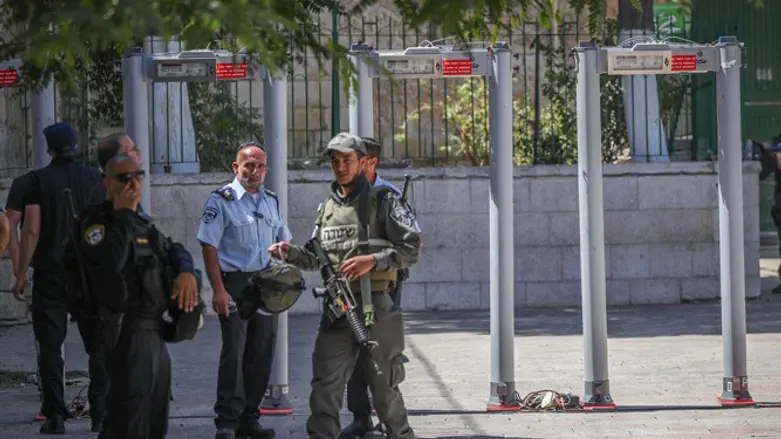 Magnetometers at the entrance to the Temple Mount
Yonatan Sindel/Flash 90
Will Israel remove the magnetometers at the entrance to the Temple Mount as a result of international pressure?
The London-based Arabic-language Al-Sharq Al-Awsat newspaper reported on Thursday that the United States is proposing a compromise, whereby the magnetometers will be removed from the entrance to the compound, but visitors will be continue to be carefully inspected by Israeli security guards before being allowed to enter.
The newspaper quoted senior Palestinian Arab officials who claimed that there was agreement on their part to inspect suspicious persons only, but who stressed they would not agree to a situation in which every Arab entering the Temple Mount complex would be inspected.
The latest tensions on the Temple Mount began after Israel announced a series of security measures following last week's terrorist attack at the compound, in which two Druze Border Police officers were murdered.
The security measures included the placing of magnetometers (advanced metal detectors which are selective in which metals they react to) and additional security cameras around the entrances to the holy site.
These security measures prompted an outcry from the Palestinian Authority, the Jordanian Waqf and the Jordanian government, which demanded a return to the status quo. In addition, Arab rioters attacked security forces and civilian cars in eastern Jerusalem, injuring two police officers and at least one Jewish civilian.
Prime Minister Binyamin Netanyahu made clear on Wednesday that the security measures on the Temple Mount will continue, but added that discussions are being held on how to do this optimally.
Meanwhile, the controversy over the magnetometers within the defense establishment is ongoing. The Israel Security Agency (Shin Bet) argues that there is no need for the magnetometers, while the police claim that they are necessary in order to assist in the prevention of terror.
On Wednesday night, the White House published a statement in which it expressed "concern" over the situation on the Temple Mount.
"The United States is very concerned about tensions surrounding the Temple Mount/Haram Al-Sharif, a site holy to Jews, Muslims, and Christians, and calls upon the State of Israel and the Hashemite Kingdom of Jordan to make a good faith effort to reduce tensions and to find a solution that assures public safety and the security of the site and maintains the status quo," said a statement from the White House press secretary.
"The United States will continue to closely monitor the developments," it added.