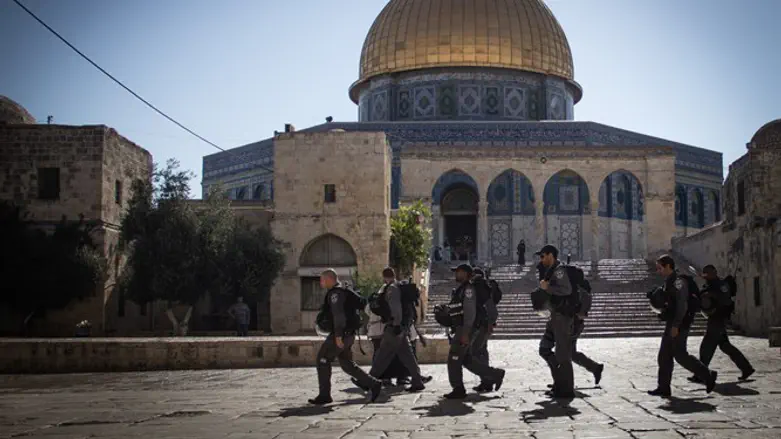 Temple Mount
Flash 90
The White House on Wednesday night expressed concerns over the situation on the Temple Mount, urging Israel and Jordan to reduce tensions.
"The United States is very concerned about tensions surrounding the Temple Mount/Haram Al-Sharif, a site holy to Jews, Muslims, and Christians, and calls upon the State of Israel and the Hashemite Kingdom of Jordan to make a good faith effort to reduce tensions and to find a solution that assures public safety and the security of the site and maintains the status quo," said a statement from the White House press secretary.
"The United States will continue to closely monitor the developments," it added.
The tensions on the Temple Mount began after Israel announced a series of security measures following last week's terrorist attack at the compound, in which two Druze Border Police officers were murdered.
The security measures included the placing of magnetometers (advanced metal detectors which are selective in which metals they react to) and additional security cameras around the entrances to the holy site.
The new security measures prompted an outcry from the Palestinian Authority, the Jordanian Waqf and the Jordanian government, which demanded a return to the status quo. In addition, Arab rioters attacked security forces and civilian cars in eastern Jerusalem, injuring two police officers and at least one Jewish civilian.
Waqf officials have refused to ascend the Mount, claiming that new security measures put in place following the attack infringed on the religious rights of Muslim worshipers.
With the Waqf temporarily absent, Jewish visitors to the Temple Mount took the opportunity to exercise their freedom of religion, but were escorted off the Mount by police and detained.
By Wednesday evening, Muslims began returning to the Temple Mount, passing through the upgraded security.