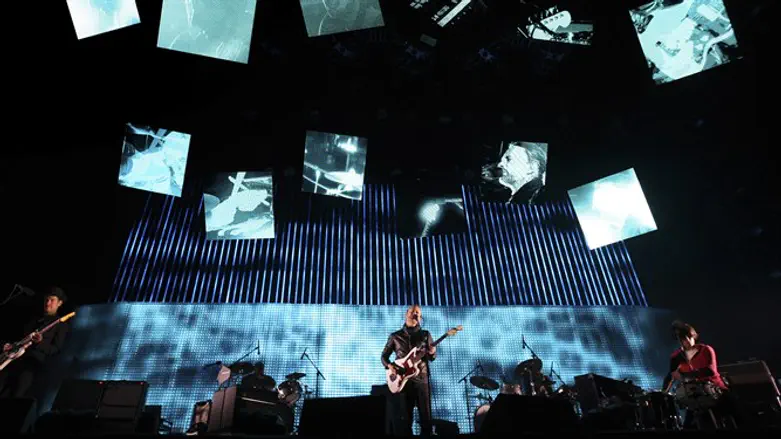 Radiohead in concert
Reuters
When the members of Radiohead take the stage in Israel Wednesday night, they will embark on one of the most politicized performances of their careers.
Their imminent concert in Tel Aviv's Hayarkon Park has drawn the ire of pro-Palestinian advocates for months and reignited the debate over the BDS movement's attempts to push a cultural boycott of Israel. In April, former Pink Floyd frontman Roger Waters and dozens of other high-profile artists signed a letter urging Radiohead not to play in the Jewish state. Radiohead's singer Thom Yorke responded to the vocal critics last month by calling them "patronizing," and he even got in a personal tiff with Ken Loach, a British film director he has said he admires.
Some festival attendees showed up at a recent Radiohead show in England with Palestinian flags — and earned a middle finger from Yorke.
It has been an unexpectedly taxing time for a band that just issued a celebratory re-issue of its seminal 1997 album "Ok Computer" and is touring the world on the heels of its latest critically acclaimed album, "A Moon Shaped Pool."
But there may be an unexpected reason why Radiohead is going through all of this trouble to play in Israel — as Hardeep Phull points out in the New York Post, it's where the band's fortunes first changed for the better.
Exactly 25 years ago, the group put out their first EP, titled "Drill," which received barely any attention in their native England. The British music magazine NME trashed the band in a review at the time, calling them "pitiful" (and Yorke "ugly"). They released their first album, "Pablo Honey," in 1993 — but that didn't make much of a splash either. Even the single "Creep" — which over the years has arguably become their most recognizable song — sold only a few thousand copies upon arrival.
In Israel, however, "Creep" was an instant hit. Thanks in part to constant play by Army Radio DJ Yoav Kutner, the song quickly climbed up Israel's charts. So the glum band, desperate for some inspiration, decided to play a few shows there in 1993.
"While we were all down in the dumps we heard from Israel that it was high in their charts, so we went there and it proved it could be successful as long as people heard it," guitarist Jonny Greenwood told Q Magazine in 2001.
In Tel Aviv, the band was treated like, well, rock stars. Fans mobbed them. A customs agent at the airport made Yorke hum "Creep." Greenwood met his future wife, visual artist Sharona Katan. At the last of their three shows there, the band played "Creep" twice and gave Kutner a friendly shout-out.
Phull writes that this was the turning point that sent Radiohead to success in the U.S. and the U.K. After the shows in Israel, American and British radio stations took to playing "Creep," and the song, re-released in the U.K., rose up the pop charts. Their next album, 1995's "The Bends," was given much more mainstream attention — and the rest is rock history.
This might be why Yorke, Greenwood and the gang have been willing to weather so much grating political pressure to play in Israel: It's where they first tasted stardom and realized the power of their music — which, at the end of the day, transcends politics.