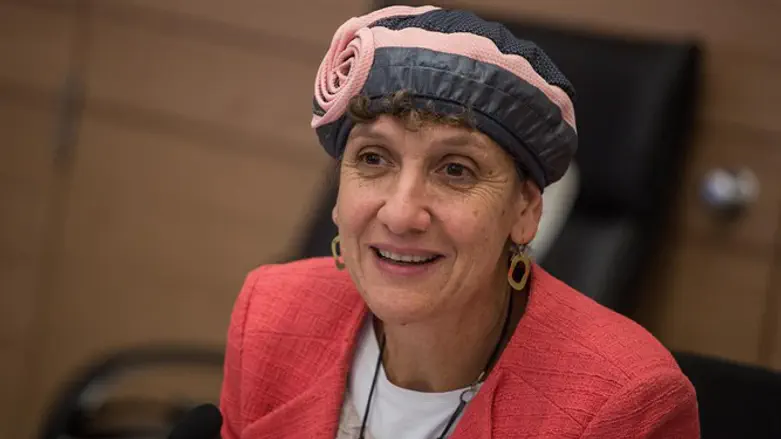 Shuli Moalem-Refaeli
Hadas Porush, Flash 90
The Knesset held a discussion on Wednesday regarding the proposal to lower the Tender Years Clause from six years old to two years old.
MK Shuli Mualem-Rafaeli (Jewish Home) opposed the bill, but said she was willing to lower the Tender Years Clause to four years of age, and requested MK Yoav Kish (Likud) remove anyone who was not an MK from the room.
"I am not willing to speak before those who promised that after they were done with me, I would be unrecognizable," she said. "I'm not willing to deal with those kinds of threats. My children already lost their father once. I'm not willing for it to happen again."
"People broke the headlights on my car, and they threaten my life.
"For four and a half years, I've been living in terror. My request to speak only in front of Knesset members, and only in front of the representatives of government offices, is a result of a reality in which people scratch my car, break its headlights, and write 'When we're done dealing with you, even the pathological experts won't recognize you.' These kinds of threats are unheard of here."
Mualem-Rafaeli also said she thinks the way the discussion is currently handled harms all parties, "fathers, mothers, and children."
"I think that the government and Justice Minister Ayelet Shaked (Jewish Home) need to propose a government bill. I think that the Tender Years Clause has to change, and the age should be lowered to four years. But if for ten years we haven't managed to change the law, then maybe we need to think about a more general systemic reform instead."
"I hope that this committee will put an end to so many years of bumbling and fudging. We are here for the children, and in order to prevent them from suffering, we need a wide base of support, from every party. This compromise, instead of lowering the Tender Years Clause to two years of age, will drastically reduce the harm done to both parents and children."
Under Israel's present Tender Years Clause, in case of divorce, children stay with the mother until the youngest is at least six years old, at which point the father can petition for shared custody. However, the court does not like to change custody arrangements, so in effect the Tender Years Clause leaves the children with their mother until they marry and leave home - even if the father is the better parent.