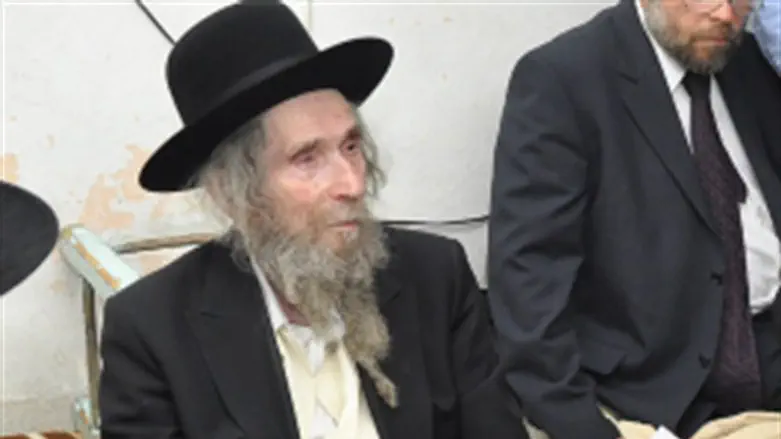 Rabbi Shteinman
Flash90
Members of the Knesset's haredi UTJ party on Thursday visited the home of haredi leader Rabbi Aharon Leib Shteinman to ask his advice on whether the party should support Education Minister Naftali Bennett's (Jewish Home) "United Jerusalem Bill."
After a detailed 40-minute discussion, Rabbi Shteinman told the party to support the law, since the updated version allows changes to be made at the municipal level - but not the security level - without requiring the "super-majority."
The United Jerusalem Bill would require anyone wishing to divide Israel's capital of Jerusalem in a future peace deal to receive backing from 80 out of the Knesset's 120 MKs, instead of the usual majority of 61.
The MKs explained their dilemma to Rabbi Shteinman: On the one hand, they said, the timing is extremely provocative to other countries. In their opinion, Bennett chose to present the law now to advance his own political agenda. On the other hand, changes at the municipal level do not require a super-majority of 80 MKs, and changing the current status quo is something impossible with the status quo.
According to Rabbi Shteinman, there would be an issue if the law had remained as Bennett had originally written it, bu the new version presented by Jerusalem Affairs and Environmental Protection Minister Ze'ev Elkin (Likud) was less of a problem and could be supported.
Last week, the sub-factions of the UTJ party - Agudat Yisrael and Degel Hatorah - had an internal dispute over whether or not to support the law. MKs from the Agudat Yisrael faction voted in favor, but those from Degel Hatorah insisted on asking a rabbi before supporting it.