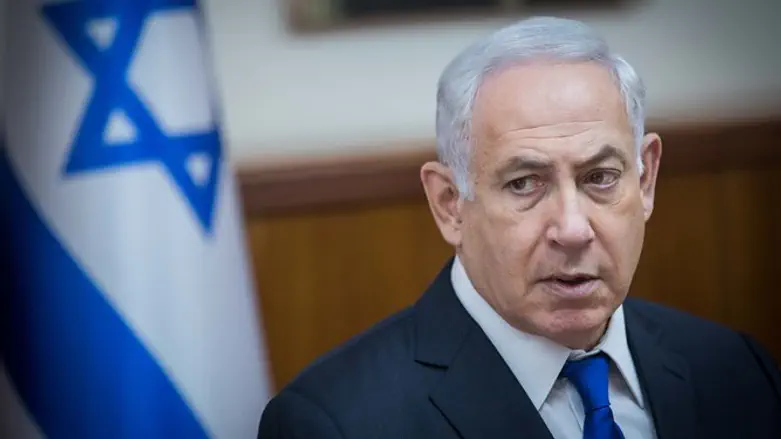 Binyamin Netanyahu
Yonatan Sindel/Flash 90
The Political-Security Cabinet did not vote on Wednesday evening on the plan for the expansion of Qalqilya at the expense of parts of Area C, freezing the plan for the time being.
Prime Minister Binyamin Netanyahu, who understood that there would be no majority to approve the plan, decided not to put it to a vote.
Following a thorough discussion of the plan, it was decided instead that the Cabinet would reconvene in ten days and discuss a comprehensive policy of enforcing construction and outline plans for construction in Area C.
The so-called "Qalqiliya Plan", which includes transfers of land from Area C (full Israeli control) in Judea and Samaria to Palestinian Authority (PA) cities, would also permit the construction of some 14,000 housing units in Qalqiliya, roughly doubling the size of the PA-controlled city.
While the plan includes expansions in other PA cities across Judea and Samaria, the idea of doubling the size of Qalqiliya has been subject to particularly intense criticism inside Israel, given both the number of homes to be added and the proximity of the city, a frequent terror hotspot, to major Israeli population centers.
Shomron Regional Council head Yossi Dagan on Wednesday evening welcomed news that the "Qalqilya Plan" has been shelved for now.
"I welcome the move. This is one step in the right direction. I call on the Prime Minister to complete the move and remove this hallucinatory plan that endangers the Sharon region and Samaria from the agenda - and to devote a little more time to advancing construction plans for the citizens of the State of Israel in Jerusalem, Judea, Samaria and throughout the country," said Dagan.