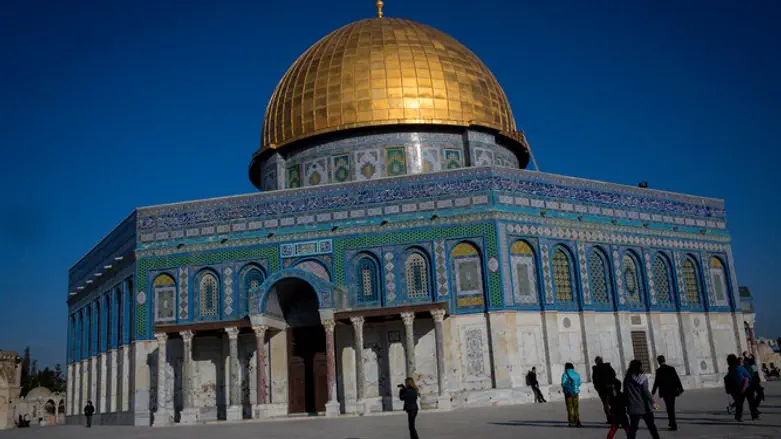 Dome of the Rock on Temple Mount
Miriam Alster/Flash 90
Tom Nisani, the young man who married on the Temple Mount last Thursday, has been distanced from the Temple Mount for a year-and-a-half.
In a Facebook post after the decision, Tom wrote, "My story with the Temple Mount also includes basic rights of a citizen in a democratic country. When I was growing up, I couldn't believe that one I day I would become an enemy of the state. That one day I would discover that I have a file with the Shin Bet, in the 'Jewish Department,' in Israel Police, in the Public Security Ministry. I couldn't believe that the State of Israel would revoke my weapon license - despite the fact that I live in Gush Etzion - on claims that I am dangerous to the public, prevent me from continuing to serve in the IDF - despite the fact that I was a career army man at least considered 'not bad' at his job [...], I also couldn't believe that I would be arrested at least 5 times - including nights - in the Russian Compound. I never would have believed it."
"Now, I intend to turn to the Jerusalem district police commander in light of the lack of elaboration on my prevention from access [to the Temple Mount] and request a personal conversation, in which I will tell the whole truth, in my name and the name of Rachel-Yanait and the nation of Israel. I will come with a scroll of independence, which I didn't write or invent. If they prevent me from ascending the Temple Mount, the idea, the truth, justice will continue to be there and everywhere. We are proud of what we did, and know that more couples are on the way...slowly, this crazy period will pass, and Jews, also, will have freedom, even on the Temple Mount," said Nisani, who works as an activist with Zionist organization Im Tirtzu.