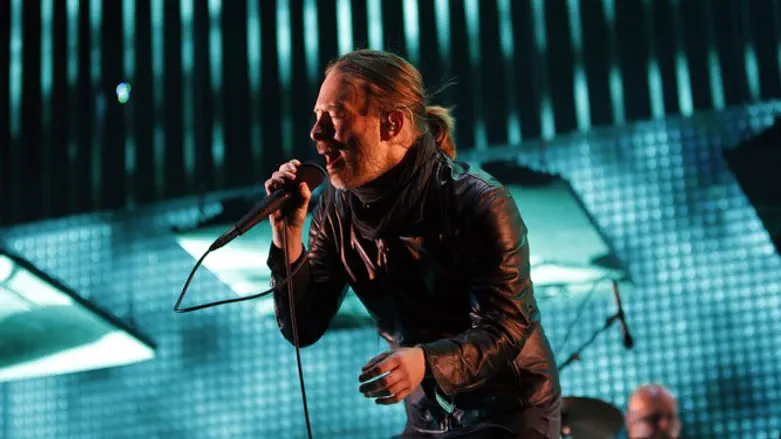 Thom Yorke
Reuters
Radiohead lead singer Thom Yorke asserted that playing a concert in a country is not the same as endorsing its government.
Yorke, responding to a critical tweet from British filmmaker Ken Loach for playing Israel next week, wrote on Twitter: "Playing in a country isn't the same as endorsing its government. We've played in Israel for over 20 years through a succession of governments, some more liberal than others.
"We don't endorse Netanyahu any more than Trump, but we still play in America."
The tweet concluded: "Music, art and academia is about crossing borders not building them, about open minds not closed ones, about shared humanity, dialogue and freedom of expression. I hope that makes it clear Ken."
Loach tweeted Tuesday that "Radiohead need to decide if they stand with the oppressed or the oppressor. The choice is simple."
Those responding to Yorke's tweet called on him to meet with left-wing human rights organizations while he is in Israel and tour Hevron or Gaza.
Another comment pointed out that Loach allows his films to be screened in Israel, including his last one "I, Daniel Blake."
Yorke and his band have been under fire from supporters of the Boycott, Divestment, and Sanctions Movement against Israel for agreeing to play a concert in Tel Aviv's Yarkon Park. Dozens of high-profile artists signed a letter sent to Radiohead in February urging the band to cancel the performance.
In June, Yorke said the letter was "offensive" and called out its signers for assuming the band is not informed on the Arab-Israeli conflict. He said the letter, spearheaded by former Pink Floyd singer Roger Waters and the BDS movement, was akin to "throwing s**t" at Radiohead in public.
Several groups have chastised Yorke for his rhetoric and criticized him for refusing to further discuss the topic.
Meanwhile, pro-Palestinian protesters have attempted to disrupt Radiohead concerts in the days leading up to the Tel Aviv show, particularly in the United Kingdom, including at the end of last month at the Glastonbury Festival in South West England.
On Friday night, Yorke flashed his middle finger at pro-Palestinian protesters waving Palestinian flags and carrying signs reading "Radiohead: #canceltelaviv" at the NSMT Festival in Glasgow, Scotland.