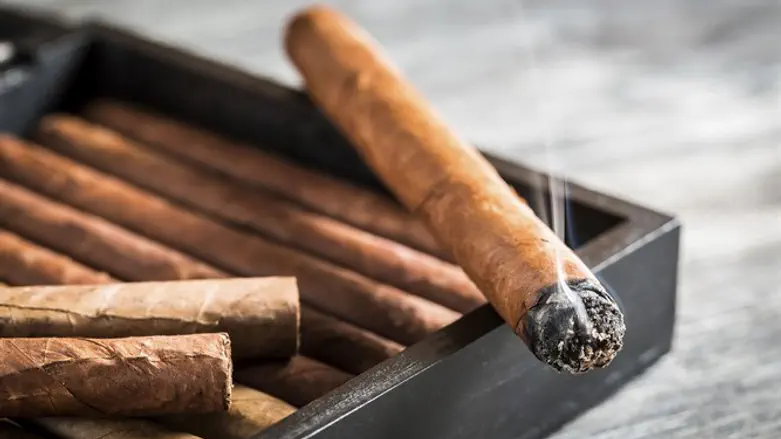 Cigarettes
Thinkstock
A special discussion held on Tuesday in the Knesset, as part of the "Healthy, non-smoking Israel" campaign initiated by MKs Tamar Zandberg (Meretz), Yael German (Yesh Atid), Yehuda Glick (Likud), and Dov Khenin (Joint Arab List).
During the discussion, Colonel Alon Galzberg, who heads the IDF's Medical Corps, spoke abut Chief of Staff Gadi Eizenkot's stance regarding the new plan to make the IDF smoke-free.
The Medical Corps will be in charge of the new plan.
When the current contract expires at the end of the year, cigarettes will no longer be sold at Shekem (the IDF canteen chain). It is expected that soon afterward they will no longer be sold at training bases or any IDF base.
During the discussion, the understanding was reached that Israel needs to stop talking about where smoking is prohibited, and change the focus to limiting the places where smoking is permitted. Smoking will also be forbidden in all IDF vehicles, and a section dealing with appropriate signage and punishments will be added to the plan.
One of the statistics mentioned is that 85% of IDF soldiers who do not actively smoke suffer from secondhand smoke during their years in service.
"The Chief of Staff wants a smoke-free IDF," Galzberg said. "We understand that something which harms the soldiers' health is harmful to the IDF's combat ability."
Currently, nearly 40 percent of Israelis are smokers by the time they finish their compulsory army service - representing a 42 percent increase over the course of service.
"Today the Israeli public proved that it is stronger than the tobacco companies," Zandberg said. "The public and political pressure we have applied in recent months has provided the backing the IDF needs to make a dramatic decision which will be an important milestone in creating a non-smoking generation."
"Israeli Prime Minister Binyamin Netanyahu and Health Minister Yakov Litzman (UTJ) can learn from the Chief of Staff. They should internalize the fact that reducing the number of smokers is an issue of national importance. At the very least, they should implement the suggestions provided as part of the national plan to reduce smoking - which they approved six years ago."
"The Israel Cancer Association and the Israel Medical Association have worked for several years with the Medical Corps," a spokesman said. "We thank the Chief of Staff for adopting the plans' main points, which we presented in a special Knesset meeting on drugs and alcohol, and we thank him for taking these important steps to save lives."
"The example set by implementing this plan will encourage other organizations as well to reduce the use of the addictive and deadly tobacco."