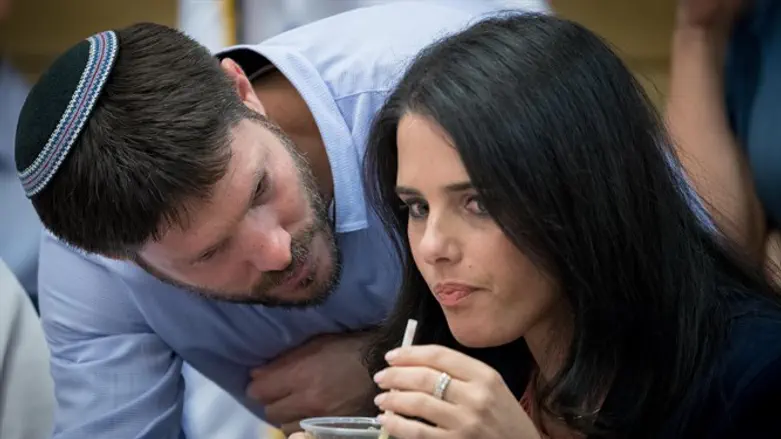 Betzalel Smotrich, Ayelet Shaked
Flash 90
The Beit El Law could be brought up by the Ministerial Committee on Legislation as early as next Sunday, according to an inquiry conducted by Arutz Sheva in the Prime Minister's Office and the Justice Minister's office. The law would force the Prime Minister to finally fulfill his repeated promise to build 300 new homes in the community of Beit El after the pledge has gone unfulfilled for the last five years.
Netanyahu's office told Arutz Sheva that, contrary to reports last week, "the Prime Minister did not veto the law, but only removed it from the agenda."
Justice Minister Shaked said in response that "the government secretary announced on behalf of the prime minister that the law would be removed from the agenda, and if the veto was annulled, the law would be brought up on Sunday."
MK Bezalel Smotrich, one of the initiators of the Beit El Law, called on the Justice Minister to include the bill in the agenda of the Ministerial Committee for Legislation next week.
"I hope that this time the Prime Minister will not brush off the ministers of his government who support the bill and want to pass it and fulfill the promise to build in Beit El," MK Smotrich said.
Earlier, MK Yoav Kish, another one of the initiators of the law, was punished for his support of the bill and did not win the position he sought to be appointed to - the chairmanship of the Special Committee for the Enactment of the National Law.
Prime Minister Netanyahu decided at the last minute not to allow Kish to be appointed to the post, due to his promotion of the Beit El legislation. Sources in the Likud said that "MK Yoav Kish paid the price for his insistence on the Beit El law."