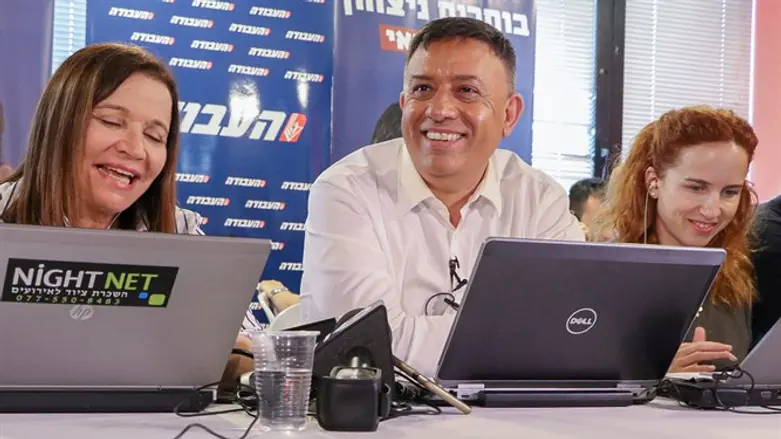 Shelly Yechimovich, Avi Gabbai, Stav Shafir
Flash 90
The Labor party will embark on a new direction as Avi Gabbay won the race for party leader Monday, defeating MK Amir Peretz in a runoff race.
Gabbay received 52% of the vote with 16,080 votes. MK Peretz received 47% of the vote with 14,734 voters.
Gabbay replaces current opposition leader Yitzhak Herzog, who placed third in the Labor party primaries last week. Gabby is an avowed leftist, who believes in the two-state solution and wrote in his platform that he would be willing to hand over Arab neighborhoods of Jerusalem to the PA in an agreement. He is also a successful and wealthy former business executive, who made millions chairing the Bezeq communicatons monopoly and served as an MK in Moshe Kahlon's Kulanu party.
Gabbai's victory was considered a surprise in the political system, since Peretz was supported both by the powerful Histadrut labor union and by the party's ousted chairman, MK Yitzchak Herzog.
However, party members apparently wanted to place a new figure at their head, one who had not yet served in the position - and Gabbay, supported by MKs Shelly Yechimovich and Eitan Cabel, won the trust of the party members.
Yechimovich responded with great satisfaction."The election of Avi Gabbay is an amazing and moving achievement that attests to the fact that the Labor Party is a vibrant, wise, and democratic party that can serve as a model for the political system in Israel.
"I congratulated him on his impressive victory in the primaries for the leadership of the Labor Party," said Yitzhak Herzog, opposition head and current chairman of the Labor Party. "I made it clear to him that I would stand by him to help him in any way to strengthen the Labor Party and replace the government.Good luck.I also spoke with Amir Peretz and congratulated him on his impressive campaign."
MK Tzipi Livni said, "I wish him success from the bottom of my heart. Just as the establishment of the Zionist Camp by me as head of the movement and by Herzog as the chairman of the Labor Party which is what created the great hope and the joint achievement in the previous elections - the mutual task before us now is to create a renewed and genuine hope for replacing the government and proposing a different path that is better for Israel and its citizens.
"Now that the Labor Party has completed its democratic process, we must turn to the public and expand the ranks into a large bloc that will be a home address to that great community in Israel, who believes in our path and aspires to replace the government and its path."