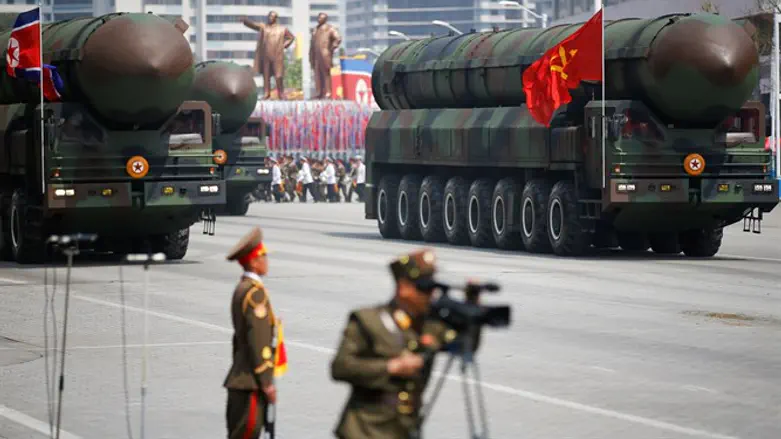 North Korea parades ICBM
Damir Sagolj/ Reuters
The type of missile tested by North Korea on Tuesday was "not one we've seen before," Pentagon officials said.
According to CNN, the missile's first stage is believed to be a KN-17 fuel device, which is a known weapons and has been used previously by North Korea. This is the stage which US satellites saw being prepared.
However, at some point North Korea added a second stage.
The ICBM was fired from a mobile launcher, and had a re-entry vehicle atop it, Reuters quoted Pentagon Spokesman Navy Captain Jeff Davis as saying.
Davis also said the missile, which flew for 39 minutes, was an ICBM with a range of over 3,500 miles (5631.5 km).
Such a range would allow the missile to threaten Hawaii or Alaska.
However, he said there is still no evidence that North Korea has found a way to mount a nuclear warhead to its missile, or that the missile was in fact capable of achieving full re-entry. Despite this, it could "absolutely" pose a threat to both air and sea traffic as well as satellites.
"We strongly condemn this act by North Korea. It is escalatory, it is destabilizing, it is also dangerous," David said.
"This act demonstrates that North Korea poses a threat to the United States and our allies and we remain prepared to defend ourselves and our allies and to use the full range of capabilities at our disposal."
North Korean TV said, "It is a major celebration in our history. North Korea is now a proud nuclear state, which possesses [an] almighty ICBM rocket that can now target anywhere in the world."
Meanwhile, US President Donald Trump tweeted on Wednesday, "Trade between China and North Korea grew almost 40% in the first quarter. So much for China working with us - but we had to give it a try!