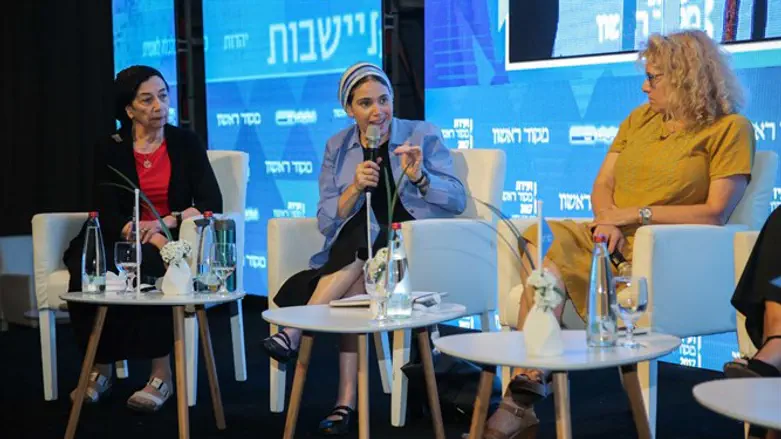 Rebbetzin Melamed (l.) on tonight's panel
Avishag SHaar Yishuv
A panel discussion on the "Double Women's Ceiling: Do Women in the Religious Zionist Community Have a Chance to Lead?" was held this afternoon (Tuesday) at the Makor Rishon conference in Tel Aviv, with the participation of leading women from the national religious sector.
"I have never felt deprivation due to the fact that I am a woman. In Bank Leumi, the attitude toward women is of equality. Over 50 percent of Leumi's management is women," said Hanna Schindler, head of BRM's division and national technology manager.
"When people ask how I did it, I reply: Thanks to my family who stood by me, because of the mothers in my community who are also mothers who raised my children, I do not think it suits everyone," Schindler added.
Rachel Tevet Wiesel, head of the National Road Safety Authority and a former adviser to the IDF Chief of Staff on women's affairs, said that religious girl's IDF service actually helps them in career and personality development. "My job in the IDF certainly played a role. I have a daughter who serves in intelligence and I am less concerned about her employment, she has job security."
Wiesel added that in her opinion "the percentages of recruitment of religious girls that were published recently - are inaccurate."
According to Wiesel, "Of the 6,000 girls per cycle in the religious girl's high schools - Ulpanot - 2,000 enlist in the IDF. I don't check whether they are fighting, because fighting is not everything. Some of them serve in intelligence Unit 8200 in significant positions, in places that promise them a future."
Dr. Rivka Neria Ben-Shahar of the Sapir College of Communications claimed that there is a connection between the issue of family planning and the ability of women to progress. "Many observant women can not make a decision about raising 10 children. They can have a significant career but can't make such a major life decision and that is something that needs to be challenged."
Rebbetzin Shulamit Melamed, director of Arutz Sheva, presented a different position: "In our family all the girls went out to work, so did my granddaughters, but they still know that the home is first and foremost, the husband's Torah learning is more important. All the girls work and progress, one is a university lecturer, another is a nurse.But there is always a clear scale of values - what is more important and what is less.
"They talk about wanting to see women stronger, I want to see them more feminine and less aggressive," said Rebbetzin Melamed. "At the third Shabbat meal I sit with the yeshiva students.I hear more and more of them saying, 'I do not want another man in the house,' a sentence I once would never hear."
"The technical challenges are marginal, the fundamental challenge is internal, and that is our job," said the Executive Director of Aluma Yifat Sela, who said that Aluma is an organization that employs a high percentage of young women.
Sela said that we must first recognize the problem of a triple glass ceiling for religious, gender, sector, and individual women. In her opinion, it will be many years before the problem disappears. The important thing is to enable girls in grades 11 and 12 to choose. We must begin in kindergarten and educate them to choice. That it should not be pre-destined."
מתוך פאנל הנשים בועידת מקור ראשון