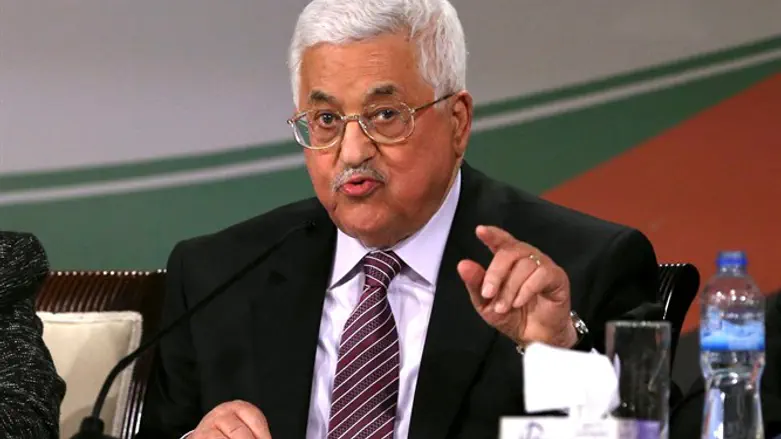 Mahmoud Abbas
Reuters
Palestinian Authority chairman Mahmoud Abbas has vowed to never halt the PA's payments to terrorists in Israeli prisons, even if his refusal to do so cost him his position as the leader of the Palestinian Arabs, Palestinian Media Watch reported.
Abbas' Fatah movement posted the pledge on its official Facebook page on Sunday.
"'Even if I will have to leave my position, I will not compromise on the salary (rawatib) of a Martyr (Shahid) or a prisoner, as I am the president of the entire Palestinian people, including the prisoners, the Martyrs, the injured, the expelled, and the uprooted," Abbas was quoted as saying.
According to the 2016 PA budget, the PA currently pays 26,800 families of "Martyrs" a total of 660 million shekels ($183 million) per year, and 6,500 terrorist prisoners receive PA salaries amounting to 486 million shekels ($135 million) per year.

A member of the Fatah Central Committee, Jamal Muhaisen, also quoted Abbas' promise to never halt the terrorists' payments, and emphasized that the payment of salaries to terrorist prisoners and "Martyrs" is not an issue of money, but rather is about the "Palestinian historical narrative":
"Regarding the salaries (rawatib) of the Martyrs and prisoners, Dr. Muhaisen emphasized that this is not a financial matter, but rather a matter that is connected to the Palestinian historical narrative, according to which the prisoners and Martyrs represent our Palestinian people's struggle. He praised the position of [PA] President Mahmoud Abbas, who responded to the American administration: 'Even if I will have to leave my position, I will not compromise on the salary of a Martyr or a prisoner," the Wattan independent Arab news agency wrote Sunday.