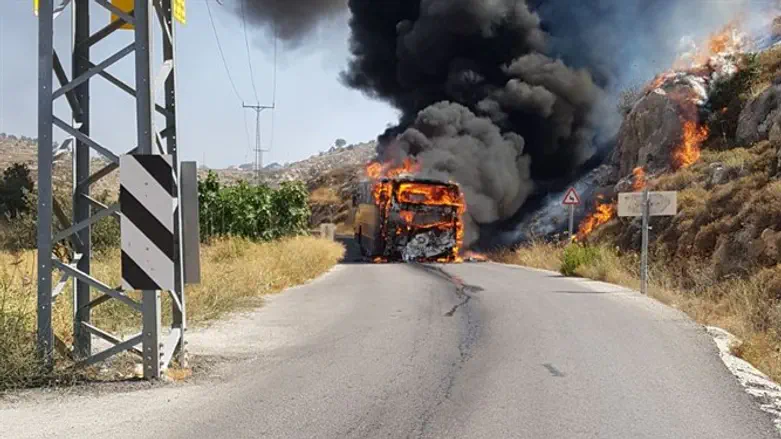 The burning bus
Aharon Mens from the Development Company and Yisrael Gantz, Deputy Head of the Council
A bullet-proof bus travelling from Kochav Yaakov to a summer camp in Beit El erupted in flames this morning, Tuesday, as a result of a technical malfunction whose cause is unclear.
The bus was 16-years old and had traveled over a million kilometers (620,000 miles). The driver opened the doors and the students inside managed to escape the burning bus unscathed.
MK Moti Yogev (Jewish Home) called on the Finance Committee to immediately approve a budget to renew the fleet of armored buses in Judea and Samaria, emphasizing that human life was at stake.
"Unfortunately, an amount of money promised for bolstering, repairing and upgrading armored buses in Judea and Samaria has been delayed for a long time despite being promised us by the Foreign Affairs and Security Committee immediately. I have been dealing with this issue for a long time, and from my knowledge I say: The old fleet is dangerous and standards are long out of date from every possible perspective. I call on those concerned in the matter and on the Finance Committee of the Knesset to transfer the funds immediately. There is real danger involved here. Especially when we're talking about money already approved by the Finance Ministry."