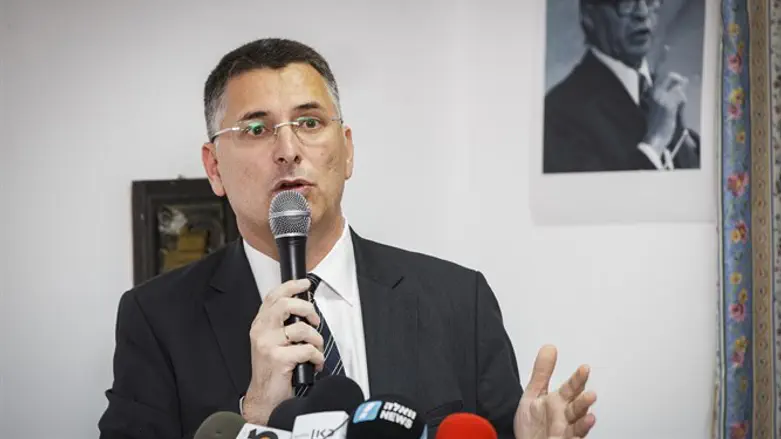 Gideon Saar
FLASH90
The Netanyahu government must pass the United Jerusalem bill proposed by the Jewish Home party, former Minister of the Interior and former Education Minister Gideon Sa'ar (Likud) said Monday.
Speaking with Kol Barama Monday morning, Sa'ar said that he backed the proposed legislation, which would require a special majority to divide Jerusalem in the event of a final status agreement with the Palestinian Authority – but added that he agreed with Prime Minister Binyamin Netanyahu's use of a veto Sunday, amid disagreements between Jerusalem Affairs Minister Zeev Elkin (Likud) and Justice Minister Ayelet Shaked (Jewish Home).
"I support the Jerusalem law," said Sa'ar, "but it must be done with consultations with Jerusalem Affairs Minister Elkin."
Sa'ar also said that the law was more than a symbolic move because the danger of the left dividing the capital, if it comes to power, was very real.
"I don't know of a single member of the Zionist Union that does not support dividing the city. While there is currently no majority in the opposition of 61 MKs to back the division [of Jerusalem, we can't tell what will be in the future; that's why this law is important."
The former Likud minister, who recently returned to politics after a roughly three-year sabbatical, added that the so-called Beit El law, which would require the government to fulfill its promises to build homes in compensation for demolished neighborhoods, should be passed.
"[The government] needs to fulfill the promises made to the residents of Beit El five years ago. This was promised twice already, and the time has come to keep the promise."
Prime Minister Binyamin Netanyahu pledged in 2012 to build 296 units in Beit El, in a deal brokered with residents ahead of the demolition of the Ulpana neighborhood. The government also has not built living quarters for those expelled from Migron and is only now beginning the process of keeping the promise made to Amona residents of a new community where they can remain together.