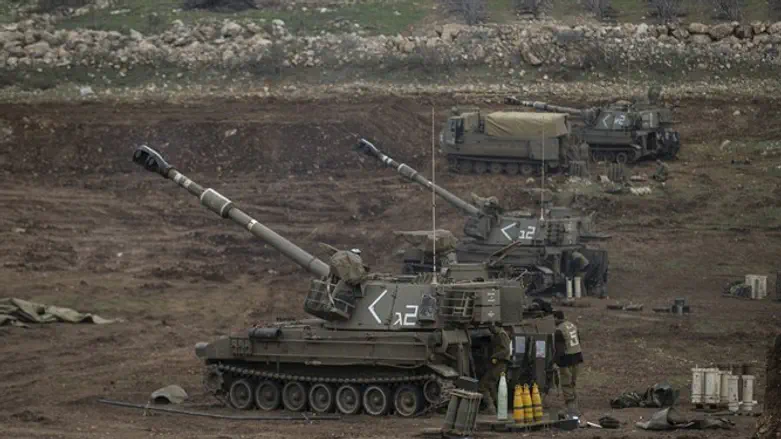 IDF troops near the Israel-Syria border
Reuters
The IDF on Saturday night destroyed a cannon belonging to the Syrian army on the Syrian side of the Golan Heights, in response to projectiles launched at Israel from Syria.
Two mortar shells from Syria exploded in the northern Golan Heights near the border fence. There were no injuries.
The IDF Spokesperson stated that "the IDF is not a party to and is not involved in the internal Syrian war, but nevertheless regards any attempt to harm the sovereignty of the State of Israel and the security of its residents as very serious and views the Syrian regime as responsible for what is happening in its territory."
Saturday night's incident is the latest in a series of "spillovers" from the Syrian civil war into Israel.
On Friday, Israeli aircraft struck a Syrian army post hours after stray fire from Syria's civil war hit the Golan Heights.
On both Sunday and Monday, rockets were fired from Syria and exploded in the Golan. The IDF attacked Syrian artillery targets and an ammunition truck.
On Wednesday, the IDF attacked a mortar site belonging to the Syrian regime, in retaliation for a Syrian rocket which struck an open area in the northern Golan. No one was injured and no damage was caused.
In response to one of Israel's retaliations, the Syrian army on Sunday warned Israel there would be "repercussions" if it continues to launch airstrikes on targets on the Syrian side of the Golan Heights.