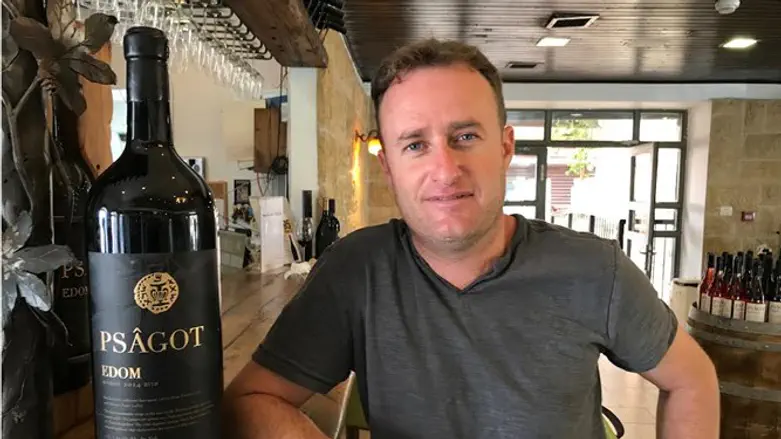 Yaakov Berg posing at his Psagot Winery in Judea and Samaria
Andrew Tobin
Psagot Winery calls its Sinai wine an "unassuming but distinctive blend" of Shiraz and Cabernet Sauvignon.
Like all its wines, the bottle is stamped with the image of a coin dating to the first century C.E. found in a chalky cave near its namesake town and inscribed in Hebrew with the words "For the freedom of Zion." The coin, its catalog explains, "symbolizes the preservation of winemaking tradition -- offering you a taste of our history."
For Yaakov Berg, Psagot Winery's CEO, and his competitors, winemaking in Judea and Samaria is a blend of commerce and ideology. They have successfully marketed both their award-winning wine and the settlements to the Israeli public.
Wineries have boomed in Judea and Samaria in the past decade or so. According to a 2011 report, settlements in the territory are home to 29 of the more than 150 wineries in Israel and its territories, compared to 14 in the famed Golan Heights wine country.
Several winery owners reported exponential increases in production since the early 2000s, with most of their wines being sold in Israel. Berg said his Psagot Winery produced about 300,000 bottles of wine last year and sold about 65 percent of them locally -- a hundredfold increase since it opened in 2003.
Berg described the flourishing of Jewish life, and viticulture, in Judea and Samaria as an affirmation of the righteousness of the Zionist project to return Jews to their biblical homeland after two millennia in the Diaspora. That message, he said, has borne fruit.
"The land wouldn't accept someone else. She waited for her sons to come back," he said in an interview at his winery. "Wine is the best thing to happen to Judea and Samaria. It's a very good tool. When people come here to drink, they get to know us and they see how we live. It makes a huge difference. Huge."
During the reign of the ancient Jewish kingdoms, wine was a major agricultural product of the Levant. When the Ottomans captured Palestine in the 16th century, centuries after the Jews lost sovereignty, wine production stopped almost entirely and was only renewed by Jewish immigrants starting in the second half of the 19th century.
Berg works closely with pro-settlement leaders and other local winemakers. He provides wine, at a discount, to the residences of both Israel's prime minister and president. The Psagot Winery shares a modern limestone and glass building with the local Binyamin Regional Council's visitor center, where tourists enjoy wine and cheese with a sweeping view of the Jordan Mountains.
Tura Winery, near the Israeli university town of Ariel, hosts hundreds of tour groups every year. Israeli Prime Minister Binyamin Netanyahu has been a guest. A busload of activists from the Likud party, was among more than a dozen Israeli groups that arrived on a single day last week. At the end of a visit, they raised glasses of Tura's Mountain Vista rose and toasted, "To good wine, to the Likud, to Judea and Samaria!"
According to Ariel Handel, a political geographer at Tel Aviv University who has studied Israel's rule of the territories for some 15 years, wine is part of a relatively new strategy to "normalize" Judea and Samaria, which, in the end, is just another region of Israel – one full of development, leisure activities and, of course, wineries.
"A huge change came after the disengagement from Gaza in 2005," Handle said. "Settlers understood they need to find ways into Israeli public opinion other than talking about security and the Bible. They started to focus on tourism and selling the West Bank as a place of quality of life, as a kind of Tuscany or Burgundy."
Nearly 400,000 Jews live in Judea and Samaria, with most concentrated in large urban centers, some with colleges, shopping malls and high-tech centers. Many of these people chose to live in Judea and Samaria for non-ideological reasons.
Owners of wineries in Judea and Samaria said they have seen new acceptance in Israel in just the past few years. International boycotts of the country have had little effect on business, and seem to have only helped rally Israelis to their defense, they said. When Vered Saadon, a member of the local Samaria Regional Council, opened the Tura Winery with her husband in 2003, she said they struggled to find willing distributors and sellers for her wine. These days, she said, she cannot keep up with local demand.
Saadon said she has increased production from about 26,000 bottles to about 80,000 in the past three years, selling 60 percent in Israel. It helped that in 2013, the Israeli government retroactively recognized Rahelim, the formerly illegal outpost that hosts her winery.
"Ten years ago they ignored me. Now they can't," Saadon said in an interview at her winery. "I'm a big part of business in Israel. I know all the journalists and politicians. We're having too much success and making too much noise."
In addition to selling wine to restaurants, stores and distributors, Saadon said Tura supplies grapes to some 30 Israeli wineries. She declined to provide names, saying some of them do not publicize the relationship. But according to a study by left-wing organization WhoProfits, "all the major Israeli wineries use grapes from Judea and Samaria in their wines," and many own vineyards in there.
Even wine sellers in Tel Aviv, the center of Israel's culinary scene and a bastion of the political left, have come around. Itzik Carmel, the owner of some of the city's highest-end restaurants, including Messa, recently started buying wines from Tura and other wineries in Judea and Samaria. As long as the settlements are recognized by Israel, Carmel said, he opposes boycotting them. He said most of his colleagues feel the same way.
Anyway, Carmel said the primary concern for him and most restaurateurs is quality, and the wines produced in Judea and Samaria are excellent.
"The climate and terroir of some of the places there are incredibly good, and the wines are very nice – very, very nice. For me as a wine lover and wine seller, this is the only thing that matters," Carmel said. "When I learned that some of Tel Aviv restaurateurs were not buying from Judea and Samaria for political reasons, I was shocked, and I decided to do something about it."
Yair Gath, a wine critic for Israel's widely circulated Israel Hayom newspaper owned by the Jewish-American billionaire philanthropist Sheldon Adelson, agreed that Judea and Samaria is "one of the best, maybe the best" regions where Israelis are growing wine. Many have won accolades at international wine tasting competitions, he said, singling out the Psagot and Tura wineries for praise.
But while Gath writes about wines from Judea and Samaria in his newspaper column, he refuses to include them in "The New Israeli Wine Guide," which he has published with wine consultant Gal Zohar since 2014. Like many of his friends in the Tel Aviv wine world, he said, Gath is morally and politically a leftist.
"In my private project, if I disagree with someone, I can choose if I want to taste his wine or not. It's freedom of speech," he said. "I think it's wrong that they're sitting over there, and I don't feel comfortable to bring them into my home, into my bedroom for intimate tastings."
In 2015, Saadon sparked a media firestorm against Gath's wine guide, with pro-settlement politicians inveighing against him and Zohar. Deputy Foreign Minister Tzipi Hotovely (Likud) told Israel's Channel 2 TV station that amid international efforts to de-legitimize Israel, "those who take such actions act as agents of the Palestinian propaganda against Israel, and we must condemn and remove these elements from our midst."
Gath said that during the uproar he received death threats and feared for the safety of his family. He has since kept a low profile. But Saadon and Gath agreed that they have since achieved a kind of détente.
"We talk about our views on the settlements a lot. We have really good talks," Gath said. "She's doing wrong in my eyes. I'm doing wrong in her eyes. Let's live together. There's no other option in this country."
Vered Saadon toasting with an Israeli tour group in Rehelim
Andrew Tobin