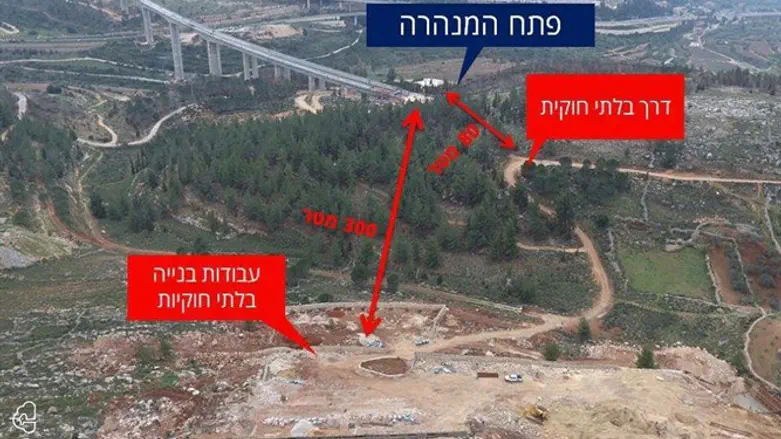 Location of illegal outpost
Regavim
The Supreme Court issued a temporary injunction against the village of Beit Iksa, located near the Ramot neighborhood of Jerusalem Thursday evening and demanded that the construction and development of an illegal Arab outpost on the outskirts of the village be halted immediately.
The illegal outpost is being constructed near the entrance to Tunnel 3, the longest tunnel in Israel, constructed as part of the Jerusalem-Tel Aviv railway.
The Regavim movement, which monitors illegal construction throughout the country, appealed to the Supreme Court after its field inspectors identified a large number of heavy equipment and work teams carrying out illegal construction on the outskirts of the village, which included massive plots outside the village, not far from the railway bridge over the valley west of Jerusalem. Over the course of the construction work a road was breached only a hundred meters from the entrance to the railway tunnel.
The village is located in western Jerusalem - but is technically defined as being part of Judea and Samaria and therefore falls under the jurisdiction of the Civil Administration and the Defense Ministry, to whom Regavim appealed in March of this year.
In addition to the village's mayor, who had been required to respond to the petition, Judge Noam Solberg ordered Mohammed Bodwan, who is in charge of the construction work, to respond to the interim order against him within one week.
"It is hard to believe how for many months an illegal neighborhood has been established in the vicinity of the most important railway line of the State of Israel," said Attorney Avi Segal of the Regavim movement. "We hope that the court will issue a wake-up call to the law enforcement authorities before we find that the 'railway neighborhood' is a fait accompli."