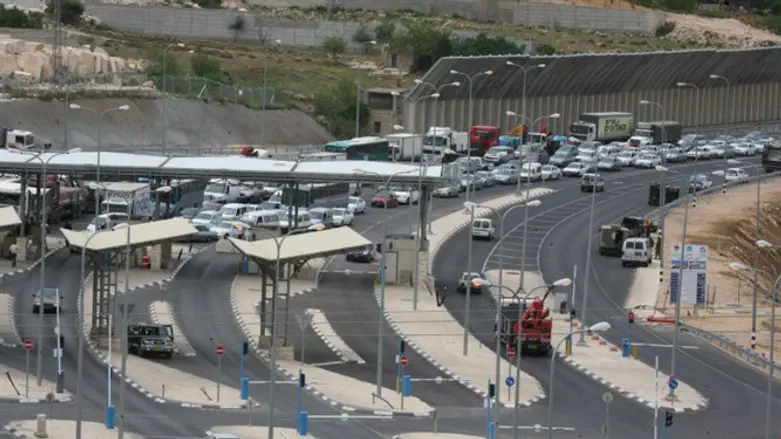 Gush Etzion Checkpoint
Flash 90
Commander of the Judea Regional Brigade Nir Yogev told Arutz Sheva that this Ramadan was the first in years to have passed with relative quiet in Judea and Samaria.
Ramadan is usually a volatile period in all of Israel, as the daily fast and the nightly breaking of the fast are catalysts of religious fervor, increased by the emotional speeches to the faithful attending services in mosques throughout the country..
"We got through the month without attacks and almost without disturbance of the peace. Thus, it appears that, at the moment, we have succeeded in our mission," he said.
"I know the history of the month of Ramadan and the sensitivity during this month. It's not that the motivation for carrying out attacks has gone down, but we as a regional brigade and all the IDF units in Judea and Samaria prepared for it in a way that minimized the chance of attacks being carried out - and if they were carried out, to prevent them from succeeding. We were successful because of spreading out with a large number of police personnel," he added.
He also said that he was convinced that Judea and Samaria residents felt safer on the roads. "There was a conspicuous [IDF] presence at junctions and on roads, and it was all in order to increase the confidence of drivers, who could see the Israeli flags waving and the large numbers of soldiers. Of course, there was also activity that wasn't seen by the public, in thwarting every terror attempt. Technological and intelligence teams whose task was to monitor everyone seeking to harm Jews and prevent them from carrying out their plans were also involved."
Yogev noted with satisfaction that Muslims were given maximal freedom to pray as they wished during the Ramadan month, including at the Cave of Machpela. "We did everything to enable the religious worship of Muslims at the Cave of Machpela, and the prayers were held tranquilly. We showed that it is possible to hold the prayers without compromising security, an accomplishment which certainly adds confidence to whoever wants to come to pray, Jew and Muslim."
While Judea and Samaria had a relatively quiet Ramadan, Israel's capital suffered a tragic terrorist attack during the Muslim holy month. Hadas Malka, a 23-year-old Border Police officer, was murdered in a combined shooting and stabbing attack in Jerusalem's Old City on June 16.