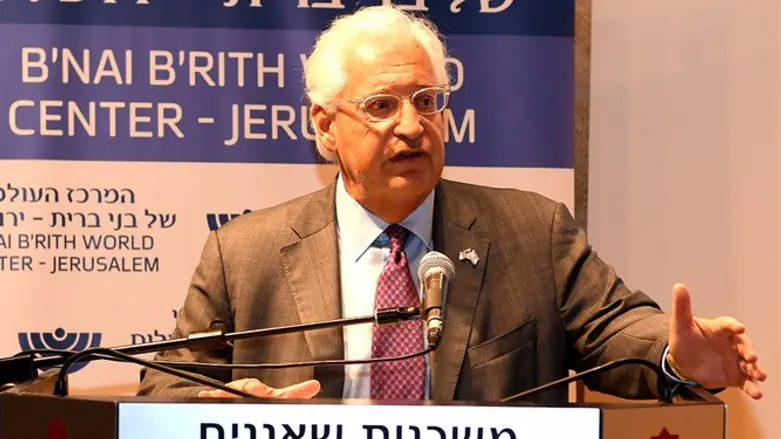 Ambassador Friedman at B'nai Brith event in Jerusalem
Mati Stern/U.S. Embassy
U.S. ambassador to Israel David Friedman on Tuesday evening criticized the conduct of the Reform Movement in recent days, following the government's decision to freeze the plan to establish a designated mixed-gender prayer area at the Western Wall.
"I want to speak to you to some extent not as the United States Ambassador to Israel, but as a member of the Jewish faith and as the son of a rabbi who practiced before his pulpit for at least 45 years and committed his life to Jewish unity," Friedman said at a B'nai Brith event.
"Three years ago, you all recall the tragedy that befell the three boys who were kidnapped in Gush Etzion and for whom, for 18 days, the entire world prayed and hoped and wished for their safe return, and unfortunately it was not to be. On the anniversary of their untimely passing, their parents began something called the Unity Prize," he continued.
"There are people who commit their lives to Jewish unity, but sadly we're not where we need to be. Yesterday I heard something that I thought I would never hear before. I heard a major Jewish organization say that they needed to 'rethink' their support for the State of Israel. This is something unthinkable. We have to do better. We must do better," stated Friedman.
"There is plenty of room to cast blame, whether it's on the issue of the Western Wall or the issue of conversion. I'm not going to take sides tonight, but I can tell you that we can only resolve these issues by mutual respect and understanding. We have to get back to those basic principles of Jewish unity."
The key to Jewish unity, opined Friedman, "is that nobody ever has to win. This is not a question of winning. This is a question of mutual understanding and respect and co-existence. As soon as someone wants to win – everybody's going to lose."
The ambassador began his remarks by mentioning President Donald Trump's peace efforts, but refused to go into details, saying, "There's an expression in English: 'Those who talk don't know, and those who know don't talk.' And so, here I actually know, so I'm not going to talk."
"I don't see any real purpose in jumping the gun on some sensitive discussions," added Friedman.
"We have a very pro-Israel administration. We have a President who made a trip to Israel a very high priority. He's the first sitting President in the history of the United States to go to the Western Wall, and we have a very very strong team of people that are very much supportive – I think in unprecedented ways – of the State of Israel."