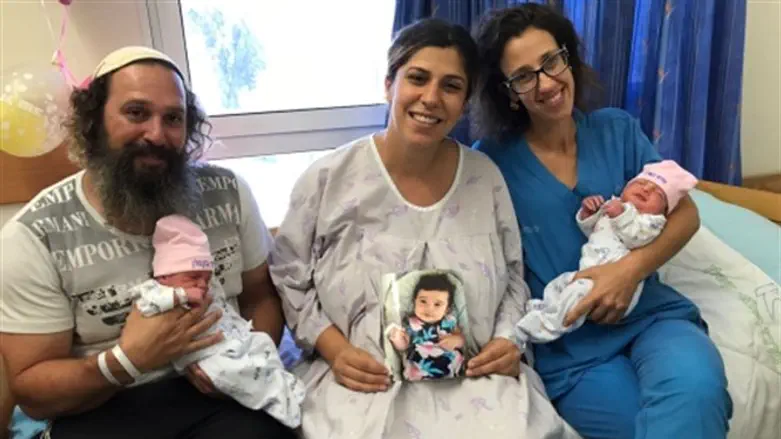 Dr. Gidron with the Stepansky family
Ofir Levy, Kaplan Hospital
"We chose life," were the words Linor Stepansky said on the "Chamesh with Rafi Reshef" (Five with Rafi Reshet) program today, after giving birth to twins 10 months after her first daughter's crib death.
"I am happy, but at the same time we have Michal's memory," said Stepansky. "She died at the age of five months, and she is with us always. As my husband says - it's like a disability. We have to learn to live with it. We chose life. I [now] have two other girls at home, and we are learning to live with the pain."
Doctor Gidron, a senior physician in the Obstetrics and Gynecology Department in Kaplan Hospital, was summoned as a family member and neighbor to the couple on the night Michal died, and from that moment on she accompanied them, both during the pregnancy and through the birth of their new daughters.
Linor recounts: "Last September, at 2:15 PM, I went to check Michal during my sleep and felt that she was not breathing, and the first person I thought of was Dr. Gidron. I woke her and said to her, 'Come quickly, my baby is not breathing' and she jumped out of bed immediately. I saw with my own eyes how she fought for Michal's life to the end. "
A month after Michal's death, Linor became pregnant. Shahar relates that during the Havdalah on Saturday night he saw two reflections on the plate and said, "We will have twins."
Sudden Infant Death Syndrome (SIDS), aka "crib death," in which infants spontaneously stop breathing, affects approximately 45 babies each year in Israel.