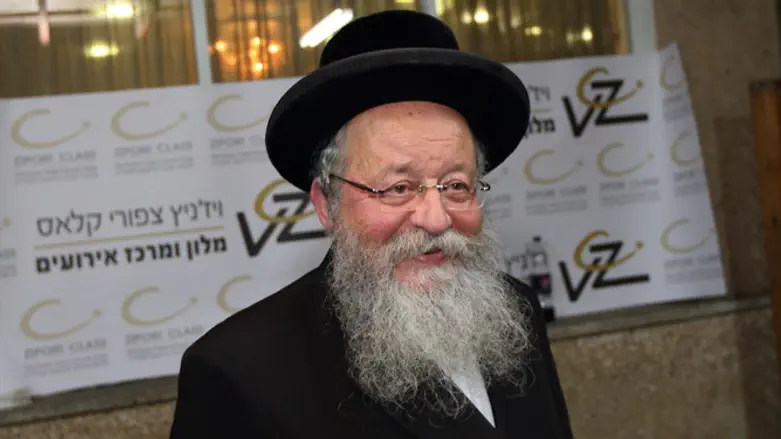 MK Menachem Eliezer Moses
FLASH90
MK Menachem Eliezer Moses (United Torah Judaism) pushed back against criticism from the Reform and Conservative Movements in US during an address to the Knesset Tuesday morning, and praised Prime Minister Binyamin Netanyahu over his decision to freeze plans to add a mixed-gender prayer site at the Western Wall.
"I bless the Prime Minister for having the wherewithal to side with authentic Judaism," said Moses. "More than 10 million people visit the Western Wall each year. Everyone follows the established norms and honors the site and the accepted behavioral standards."
On Sunday, the government voted to shelve a plan adopted in 2016 to set aside a portion of the Western Wall in Jerusalem for non-traditional, mixed-gender religious services held by groups affiliated with the Reform and Conservative Movements.
Later that day, the Ministerial Committee for Legislation gave the coalition's backing for the proposed Conversion Law, which would restrict the government's recognition of conversions performed in Israel to those done under the auspices of the Chief Rabbinate.
Non-Orthodox movements in the US blasted the two moves, arguing that they infringed on religious liberty and would alienate the majority of American Jews from the Jewish state.
"These decisions simply pushed Diaspora Jews out, delegitimizing those who stand up every day against the BDS, UNESCO resolutions and the delegitimization of Israel," said Union of Reform Judaism in North America President Rick Jacobs.
Moses rejected the criticism levelled by Jacobs and other non-Orthodox Diaspora leaders, saying Israeli government policy vis-à-vis recognition of conversions and management of the Western Wall were internal Israeli matters.
"Unfortunately, some women come there every Rosh Hodesh [marking the new month] and try to disturb the peace," said Moses, referencing the "Women at the Wall" organization, which holds non-traditional prayer services at the wall each month, an act regular worshippers at the holy site view as an unwanted provocation.
"There are thousands of worshippers there – from dawn through till the end of the day. Everyone prays and pours their hearts out at the place where we dreamed of returning to for thousands of years. And these women come and offend all those worshippers."
"We ask that you respect us and our customs. And don't bring over all the factionalism that you have in America here to the Land of Israel. Reform Jews, Conservative Jews: make the best of yourselves and stay in the US. So long as you aren't here, you have no ties to here, you didn't participate in elections, you have no representation – don't interfere. Don't bother us, don't change the customs of a place that is holy to all of the Jewish people."
Recent surveys of American Jewry show that the Conservative Movement is in drastic decline, while 80% of Reform Jews intermarry and very few marry at all, with only a small percentage of those who do deciding to raise their children to be Jews. Orthodox numbers are increasing.