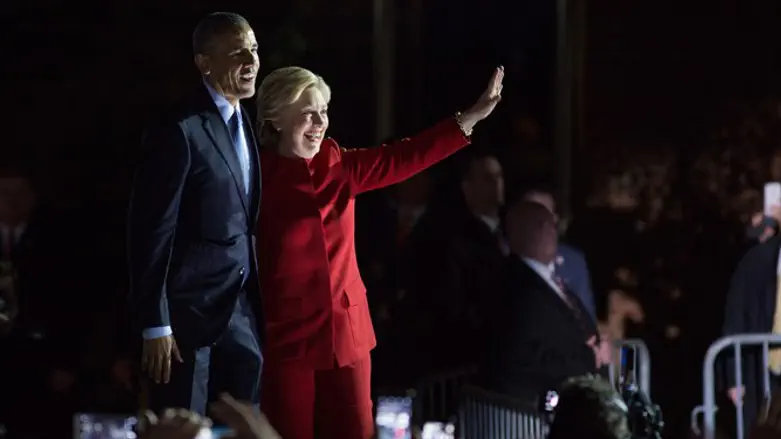 She who would be President
Flash 90
Against the background of reports that Barack Hussein Obama did not act enough after being briefed during the presidential election campaign by the CIA about Russia's involvement in the elections, the US president attacked: "The reason that President Obama did NOTHING about Russia after being notified by the CIA of meddling is that he expected Clinton would win and did not want to 'rock the boat.' He didn't 'choke,' he colluded or obstructed, and it did the Dems and Crooked Hillary no good. The real story is that President Obama did NOTHING after being informed in August about Russian meddling. With 4 months looking at Russia under a magnifying glass, they have zero 'tapes' of T people colluding. There is no collusion & no obstruction. I should be given apology!"
Trump has launched an offensive in recent days in light of the reports that have surfaced and accused Hillary Clinton of colluding with the Democratic Party "in order to beat Crazy Bernie Sanders. Is she allowed to so collude? Unfair to Bernie!"
An additional twist in the wide-ranging affair of Russian involvement in Trump's election occurred when a number of American media sources reported earlier this week that Sergey Kislyak, the Russian ambassador who had met with Trump officials before he took office, leading to Michael Flynn's investigation, has been recalled to his country and will leave the US soon. Kislyak is expected to leave the United States while the investigation against Flynn - and to check whether the Russians really influenced the election process - is still underway.
The story was first published on the Buzzfeed website and is based on three sources close to the subject.In the past it was reported that Kislyak would be promoted to a senior position at UN headquarters, but investigations by the FBI and the Congress on the connection between Russian officials and Trump officials continued to expand, and also focused on conversations between 66-year-old Kislyak and Trump's people, including Jeff Sessions who became Attorney General, Trump's son-in-law Jared Kushner, and Michael Flynn, who was appointed National Security Adviser but resigned after it became clear that he lied about his talks with Kislyak in 2016.
Moscow has yet to confirm the date of the ambassador's departure, but the Russian-US Business Council has already announced that it will hold a farewell party on July 11. "A little time far away from here could be of some benefit to him," said a US-based diplomat.
Many politicians have been busy in recent months denying they ever met with him. Among those who failed at this were President Trump's son-in-law Jared Kushner, Attorney General Jeff Sessions, and the deposed National Security Adviser Michael Flynn, all of whom hid meetings and conversations with the ambassador at one time or another. But Nancy Pelosi, the leader of the Democratic minority in the House of Representatives, also denied that she had ever met him - and soon after pictures were revealed of the two together.
Investigators in the Russian case and the Trump campaign mainly focus on a specific 20-minute meeting between Kislyak, Kushner, and Flynn last December, after Trump's election to the presidency, but before he took office. After the meeting, American spies reported that Kislyak had mentioned that Kushner had asked him to arrange a secret communication channel with Russia, which US intelligence agencies would not be able to monitor - a request that stunned the Russian embassy.
Kislyak is expected to replace Russian Deputy Foreign Minister Anatoly Antonov. He is considered a tough diplomat who is on the EU sanctions list. Antonov's appointment will have to be approved by the Russian parliament before it is finalized.