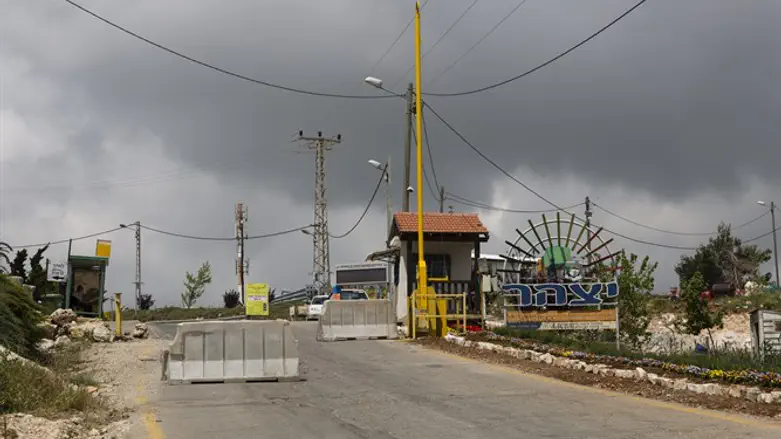 Yitzhar
FLASH90
Jewish youths threw stones at IDF troops and Border Police officers during the evacuation and demolition of a structure built without a permit in Yitzhar on Sunday.
Demonstrators protesting against the demolition set up barricades on the road to the Samaria town to block the army vehicles, and at least three youths hurled stones at security forces during the operation.
Border Police officers and IDF soldiers apprehended the three youths and transferred them to the police custody.
"The IDF takes very seriously any sort of attack on security forces carrying out their orders and who defend the residents of the area," an army spokesperson said in response to the incident.
"The security forces will continue to act to enforce the law and keep the peace in Judea and Samaria."
But residents say relations between the community and authorities had begun deteriorating before Sunday's incident, and that the Defense Ministry's political leadership was to blame.
"It is very unfortunate that after two years of calm, when good relations were built between the town and the Samaria Division, someone has to come along and inflame the situation and create at any cost images of conflict between the residents of Yitzhar and soldiers," the Yitzhar secretariat said in a statement.
"It began during the cruel eviction of Elkana Picar from [Yitzhar] with an army order despite [having] no trial, and continued with the wholesale use of administrative orders without trial against 14-year old children and the jailing of a youth from the town based on an administrative arrest order even after two courts instructed that he be freed. It looks like [Defense] Minister Liberman is done trying to defeat Arab terrorism."
Last week, stones were thrown at an IDF ambulance that arrived in Yitzhar to evacuate resident suffering from dehydration.